Thematic map: Africa's international trade 2001-2016: boom and bust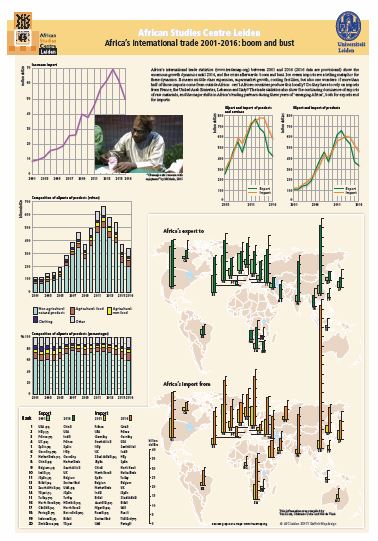 Africa's international trade statistics between 2001 and 2016 show the enormous growth dynamics until 2014, and the crisis afterwards: boom and bust. Ice cream imports are a telling metaphor for these dynamics. It means middle class expansion, supermarket growth, cooling facilities, but also one wonders: if more than half of those imports come from outside Africa: can't African countries produce this locally? Do they have to rely on imports from France, the United Arab Emirates, Lebanon and Italy? The trade statistics also show the continuing dominance of exports of raw materials, and the major shifts in Africa's trading partners during these years of 'emerging Africa', both for exports and for imports.
Author(s) / editor(s)
Ton Dietz, Chibuike Uche, Nel de Vink
About the author(s) / editor(s)
Ton Dietz is the former director of the African Studies Centre Leiden and Em. Professor of the Study of African Development at Leiden University.
Chibuike Uche is the chairholder of the Stephen Ellis Chair for the Governance of Finance and Integrity in Africa.
Nel de Vink is owner of DeVink MapDesign.
Posted on 22 September, 2017. Last modified on December 21, 2017