Seminar: The Reopened AfricaMuseum Tervuren
REGISTRATION FOR THIS SEMINAR HAS CLOSED AS WE HAVE REACHED THE MAXIMUM CAPACITY FOR THE VENUE.
The Royal Museum for Central Africa in Tervuren is known as one of the most beautiful and impressive Africa museums in the world. In December 2018, the completely renovated museum reopened its doors. Bambi Ceuppens played a crucial role in the intense renovation and the development of the new displays between 2008 and 2018. How to decolonize the museum? Ceuppens will tell how the old museum has been transformed into a modern museum about contemporary Africa, while looking back critically at the colonial past.
This seminar is part of the Seminars in Global Art History and Heritage, organised by Mary Bouquet (UCU), Stijn Bussels (LU), and Thijs Weststeijn (UU).
Photo: Bust of king Leopold II in January 2019 replaced by a copy in birdseed in the parc of the AfricaMuseum by the Association Citoyenne pour un Espace public Décolonial.
Programme:
15.30 Welcome by Stijn Bussels
15.35 - 16.20 Presentation Bambi Ceuppens, AfricaMuseum
16.20 - 17.00 Round table followed by Q&A. Participants: Bambi Ceuppens, Annette Schmidt (Museum Wereldculturen), Kitty Zijlmans (Art History, Leiden) & Mirjam Hoijtink (UvA; research project 'Past and present tense. Future knowledge for Colonial Collections'). Moderator: Jan-Bart Gewald.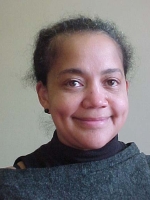 Bambi Ceuppens received her PhD in Social Anthropology from the University of St Andrews. She has taught at the Universities of Edinburgh, Manchester and St Andrews and was a postdoctoral researcher at Ghent University and the Catholic University of Leuven. Currently a senior researcher and curator at the Royal Museum for Central Africa, Bambi Ceuppens's research focuses on the colonial history that the Congo and Belgium share, Congolese arts and cultures, Congolese in Belgium, museum representations of Africa(ns) and autochthony. She has curated the exhibition "Indépendance! Congolese Tell Stories of Fifty Years of Independence" (RMCA, 2010) and has co-curated "Congo Art Works: Popular Painting" (Fine Arts Centre, Brussels, 2016-2017; Garage Museum of Contemporary Art, Moscow, 2017) with Sammy Baloji and co-curated "Congo Stars" (Graz, Vienna, 2018; Tübingen, Germany, 2019). She teaches anthropology of arts at KASK School of Arts (Ghent) and Sint-Lucas School of Arts (Antwerp).
Date, time and location
Pieter de la Courtgebouw / Faculty of Social Sciences, Wassenaarseweg 52, 2333 AK Leiden
Last modified on October 10, 2019