Seminar: The Pioneers (Voortrekkers) monument in Pretoria. Classical ideals and Afrikaner ideologies
Primary tabs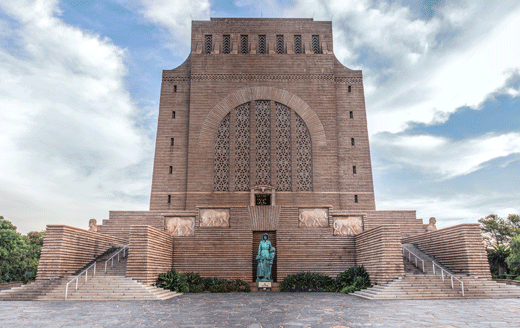 Commissioned by Afrikaners, this Art Deco structure measuring 40 x 40 x 64 metres is the largest monument in South Africa and has provoked strong responses from the country's different peoples – from unconditional adulation to calls for its demolition. With a colossal frieze at eye level, the monument enshrines the ultimate version of the Afrikaner myth of the 'Great Trek' of 1835-52, including the journeys, conquests and rites of the Boer pioneers who became known as the Voortrekkers.
Yet, despite its prominence, the monument has received remarkably little academic attention and no in-depth and question-driven art-historical study of this exceptional frieze (one of the largest of its kind in the world). In this lecture, Prof. Rolf Michael Schneider, LM Universität München, will address this remarkable lacuna.
Drawing from untapped primary (mainly Afrikaans) material, Prof. Schneider will address the question of how 17 years of Voortrekker memory and history were transformed into a frieze, 92 metres long and 2.3 metres high, chiselled from Carraran marble in the Italian city of Florence.
The seminar is open to academics, students and anyone with a general interest in this subject. We particularly welcome colleagues from fields such as (Classical) archaeology, Art History, (African) History, Cultural Anthropology and Sociology.
The seminar is organized by the Africa Studies Centre and Luris.
Date, time and location
Pieter de la Courtgebouw / Faculty of Social Sciences, Wassenaarseweg 52, 2333 AK Leiden
Posted on 28 January 2019, last modified on 19 February 2019