Seminar: Multimodal Discourse Analysis of Campaign Banners in the 2021 Ethiopian Election
Primary tabs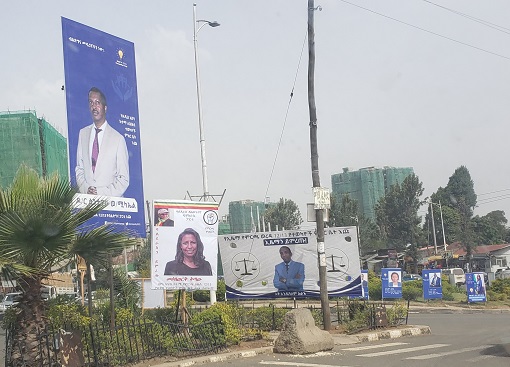 Examples of campaign banners in Ethiopia. Photo credits: Mulugeta Tsegaye.
This event will be held physically in Leiden. For registrees who cannot travel to Leiden a link to an online platform will be sent one day before the start of the event.
This study by visiting fellow Mulugeta Tsegaye (Addis Ababa University) conducts a multimodal discourse analysis of campaign banners in the 2021 Ethiopian general election. It examines the interplay between language and visual elements in constructing and conveying political messages, and their influence on voter choices. The focus is on the representation of political candidates and parties through banners. Twenty banners were analysed, representing the ruling Prosperity Party and the opposition Ethiopian Citizens for Social Justice Party, the largest political parties in terms of candidates. Van Leeuwen's social actor theory was employed to understand participants' representations, and Kress and Van Leeuwen's visual grammar interpreted visual elements.
The findings demonstrate the diverse presentation methods of candidates, including group compositions, pairs, and individuals. Common features were observed, such as candidates dressed smartly, using academic titles, and establishing direct eye contact with the audience. These elements create a sense of demand and intimacy. However, distinctions in colour composition, written texts, and candidates' hand positions were also observed, signalling distinct messages to voters. This research contributes to understanding the role of campaign banners in shaping the political landscape and the democratic process in Ethiopia. It provides insights into the influence of language and visuals on voter perceptions and choices, contributing to a more peaceful and orderly election process.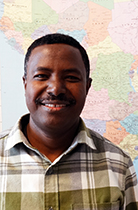 Mulugeta T. Tsegaye is a visiting fellow at the ASCL from April to June 2023. During his fellowship, he will work on a Multimodal Discourse Analysis of Campaign Banners and Speeches in the 2021 Ethiopian Election. He affiliates with the CRG, Collaboration and contestation in words: Dialogues and disputes in African social realities. Mulugeta is interested in the interdisciplinary fields of psycholinguistics and sociolinguistics, including speech-language processing and disorders, translation equivalence and multimodal discourse analysis.
Date, time and location
Pieter de la Courtgebouw / Faculty of Social Sciences, Wassenaarseweg 52, 2333 AK Leiden
Posted on 7 June 2023, last modified on 8 June 2023