Seminar: How to make Africa visible: African collections in the British Library and the West Africa exhibition of 2015-16
Primary tabs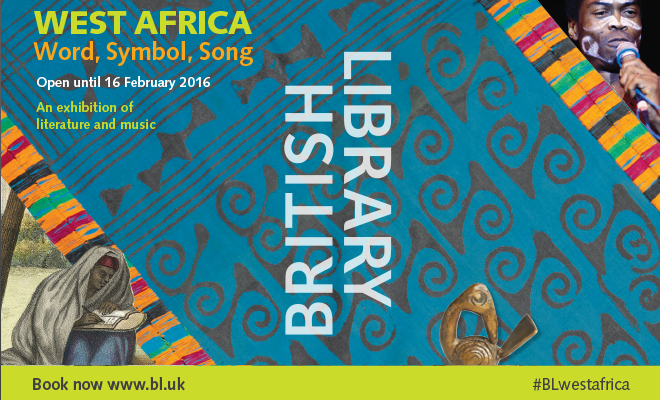 The British Library is the national library of the UK, and holds rich and very extensive collections on Africa. These comprise printed books, electronic resources, manuscripts and archives, newspapers, maps, sound recordings and stamps, and (to a lesser extent) photographs, prints & drawings, film and sheet music.
These collections were at the core of the British Library's recent major exhibition, 'West Africa: Word, Symbol, Song', which ran between October 2015 and February 2016. Referencing a thousand years of West Africa's history, the exhibition brought together some 250 objects including books, manuscripts, artworks, musical instruments and a wide range of sound recordings and film. Stories of writing technologies and literatures, both oral and written, were woven through the exhibition's themes of history, literature, music, politics and religion.
Four years in preparation, 'West Africa: Word, Symbol, Song' was conceived and developed through wide-ranging consultation. It was one of the most ambitious exhibitions on Africa to be held in London in recent years, and successfully engaged with audiences who related personally to the histories and stories being told in the gallery space and in the related events and learning programmes.
In the first part of her paper Marion Wallace outlines the British Library's African collections, and how researchers can access the resources. She then goes on to discuss the experience of curating the West Africa exhibition, examining how the project was put together and the choices that were made. The paper reflects critically on the issues involved in mediating and communicating African history and literature to a wide audience, in the light both of discussions held in the context of the exhibition, and of the literature on heritage and public history in Africa.
Dr Marion Wallace is Lead Curator, African Collections at the British Library. In 2015, she co-curated the British Library's major exhibition 'West Africa: Word, Symbol, Song'. Her research interests centre on the history of Namibia, and she has also written on subjects including West African history and the impact of the digital revolution on African Studies. She was Chair of SCOLMA (the UK Libraries and Archives Group on Africa) 2011–2014.
Date, time and location
Pieter de la Courtgebouw / Faculty of Social Sciences, Wassenaarseweg 52, 2333 AK Leiden
Posted on 18 October 2016, last modified on 1 November 2016