Online Country Meeting: Sudanese women and their constant struggle
Primary tabs
Photo credits: Ola A. Alsheikh.
The history and reality of Sudan demonstrates the ongoing struggle of women across classes, cultures, races, and fields. A lot can be read about women's contentions with patriarchal and autocratic authorities. Fatima Ibrahim and Awadeya Koko, among others, have significantly contributed to women's rights and representation in political and public spheres. Recently, in the 2013 uprising and the 2018 revolution, women and girls were behind organising the demonstrations.
The active and promising participation of women in the 2018 revolution faced serious challenges. On 3 June 2019, the armed forces attacked the peaceful sit-in, and women were endangered. Then, during the political negotiations between the Transnational Military Council and Forces of Freedom and Change, women were underrepresented. Even more, after setting the transnational government, women occupied fewer places in the cabinet and local governments. And violence against women in refugee and displacement camps still happens.
It's now been two years since that December revolution in 2018 erupted. But the current dynamics show 'the political sphere is eons behind the streets', as Omnia Shawkat explained the gender struggle in Sudan.
This Country Meeting aims to open a discussion about the women's struggle since the revolution started and during its aftermath. Additionally, the event will shed a light on women's strategies and activities to create and consolidate their rights.
Dr Azza Ahmed Abdel Aziz lives between Khartoum and London. She holds a PhD in Social Anthropology, with a special focus on Medical Anthropology from the School of Oriental and African Studies, University of London. Her research focuses on cultural understandings of health and well-being. She has been following the unfolding uprising in Khartoum since December 2018 and has been documenting the everyday protest practices, focusing specifically on the artistic expressions. She is also a co-researcher with Katarzyna Grabska in the ISS-funded project on creative practice, mobilities and in development in Sudan.
Dr Katarzyna Grabska is a social anthropologist. Her research focuses on gender, generation, youth, displacement, refugees, return of displaced populations, impact of war on gender and generational relations and identities, access to rights for refugees in urban settings, and art and activism in the context of war and conflict. Since 2002 Katarzyna has conducted research on displacement and forced migration issues in Egypt, Kenya, Sudan, South Sudan, Ethiopia, Jordan, Ghana, Kyrgyzstan, and Vietnam. She works with visual media, art-based research, feminist methodologies, and participatory methodologies. Since 2002, she has been carrying out a longitudinal study of gender relation transformations among Nuer from South Sudan in Egypt, Kenya, South Sudan and Sudan.
She often collaborates with artists in her research, and engages with art-based research to understand issues of belonging, displacement, mobilities and identities. She also is a film-maker. Currently, Katarzyna is a senior researcher in the Peace Research Institute Oslo (PRIO) and Visiting Professor at the Institute of Ethnology, University of Neuchâtel, Switzerland.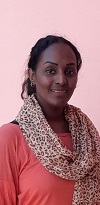 Alaa Sharif, MSc is a musician and psychologist currently lecturing at Ahfad University for Women in Omdurman, Sudan.
Posted on 6 November 2020, last modified on 16 December 2020