Nigeria launch of Stephen Ellis' last book on the history of Nigerian organised crime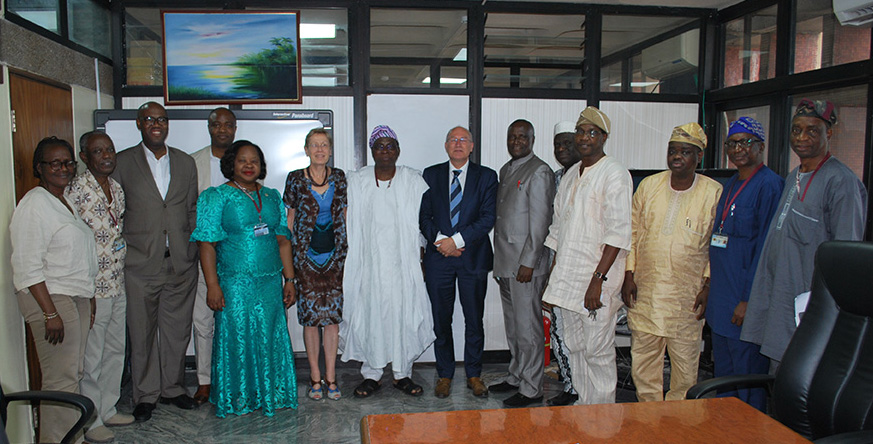 On Friday 28 October Stephen Ellis' last book This present Darkness: A History of Nigerian Organised Crime was launched at the University of Lagos, Nigeria, in the presence of Stephen Ellis' widow Prof. Gerrie ter Haar, ASCL director Prof. Ton Dietz, and ASCL senior researchers Dr Chibuike Uche and Dr Akinyinka Akinyoade. They were warmly welcomed by Prof. Muyiwa Falaiye, Dean of the Faculty of Arts, who hosted the event, and Prof. Rufus Akinyele, Department of History and Strategic Studies, who took the initiative for the lauch and the Stephen Ellis Colloquium.
The book received an excellent review by Professor Ayo Atsenuwa, Dean of the Faculty of Law, stating that 'everyone should read this book!'. This was followed by the Stephen Ellis Colloquium with papers given by representatives from the University of Lagos as well as from the media, e.g. about 'Currency Counterfeiting and "Substantial Justice" in Colonial Nigeria'; 'Theft in Early Colonial Lagos'; 'Crime at the University of Lagos'; and 'Reporting Crime in Contemporary Lagos'.
After the colloquium the Leiden delegation had a meeting with Professor Rahamon A. Bello, Vice-Chancellor, and Dr Taiwo F. Ipaye, Registrar, and many other leaders of the University of Lagos to discuss possible partnership between the universities of Lagos and Leiden.
The African Studies Centre Leiden is greatful for the invitation and the tribute paid by the University of Lagos to its former senior researcher Stephen Ellis. A publication on the Stephen Ellis Colloquium is forthcoming.
Posted on 31 October 2016, last modified on 22 November 2016