New web dossier: Women in Muslim Africa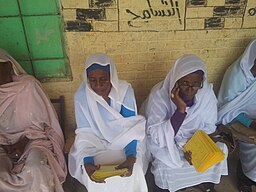 On the occasion of the workshop Global and Local Political Debates over Women's Rights, and Everyday Life in Muslim Africa, on 20 and 21 September, the ASCL Library has compiled a web dossier on Women in Muslim Africa, including titles on Muslim women's rights, everyday lives, and global and local political discourses around this subject. The workshop will include a public keynote lecture on 21 September by Dr Joseph Hill, entitled: Muslim Women's Interpretive Authority Reconsidered: Everyday interpretation among female Islamic leaders in Senegal.
Photo credit: Mustafamafad, CC BY-SA 4.0, via Wikimedia Commons.
Posted on 12 September 2023, last modified on 15 September 2023