Nature conservation in Southern Africa. Morality and Marginality: Towards Sentient Conservation?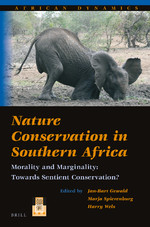 Nature conservation in Southern Africa has always been characterised by an interplay between Capital, specific understandings of Morality, and forms of Militarism, that are all dependent upon the shared subservience and marginalization of animals and certain groups of people in society. Although the subjectivity of people has been rendered visible in earlier publications on histories of conservation in Southern Africa, the subjectivity of animals is hardly ever seriously considered or explicitly dealt with. In this edited volume the subjectivity and sentience of animals is explicitly included. The contributors argue that the shared human and animal marginalisation and agency in nature conservation in Southern Africa (and beyond) could and should be further explored under the label of 'sentient conservation'.
Contributors are Malcolm Draper, Vupenyu Dzingirai, Jan-Bart Gewald, Michael Glover, Paul Hebinck, Tariro Kamuti, Lindiwe Mangwanya, Albert Manhamo, Dhoya Snijders, Marja Spierenburg, Sandra Swart, Harry Wels.
This book has been published as volume 16 of the African Dynamics series.
Read the web dossier on wildlife conservation in Southern Africa compiled by the ASCL Library.
Author(s) / editor(s)
Jan-Bart Gewald, Marja Spierenburg & Harry Wels, eds.
About the author(s) / editor(s)
Jan-Bart Gewald, PhD (1996), Leiden University is a historian and Director of the African Studies Centre Leiden. He has published on a wide range of subjects in African history and is specifically interested in the history of the social relationship between people and technology in Africa. His publications include Herero Heroes: A Socio-Political history of the Herero of Namibia 1890-1923 (James Currey, 1999) and The Speed of Change. Motor Vehicles and People in Africa, 1890-2000 (Brill, 2009), which he edited with Sabine Luning and Klaas van Walraven.
Marja Spierenburg, PhD (2003), University of Amsterdam, is Professor in Development Studies at the Radboud University in Nijmegen, and is affiliated to Stellenbosch University in South Africa as a Research Fellow. Her research focuses on the role of the private sector in nature conservation and land reforms in southern Africa, and the impacts on local communities' access to land and livelihood strategies. Marja Spierenburg shares the vice-chair of the Scientific Committee of the Programme on Ecosystem Change and Society, one of Future Earth's core projects. She is also a member of the International Advisory Committee for Biosphere Reserves, and she chairs the Scientific Advisory Board of the African Studies Centre Leiden.
Harry Wels, PhD (2000), VU University Amsterdam, is Associate Professor at that university, Publications Manager at the African Studies Centre Leiden and is affiliated to the University of Pretoria in South Africa as a Research Fellow. He has published on human-animal relations, including ''Animals like Us': Revisiting Organizational Ethnography and Research' (Journal of Organizational Ethnography, 2015) and, together with Karen Dalke, 'Ethnographic Research in a Changing Cultural Landscape', in Nyman, J. and Schuurman, N. (eds), Affect, Space and Animals (Routledge, 2016).
How to order
ISBN: 978-90-04-38511-5
Number of pages: 295
Price: € 53,-
This book can be ordered at BRILL. Also available as E-book.
Posted on 20 November, 2018. Last modified on January 11, 2019