Mirjam de Bruijn on radio 1 about protests in Cameroon after Internet shutdown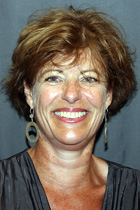 ASCL senior researcher Mirjam de Bruijn was interviewed by VPRO's Bureau Buitenland about the heavy protests in Cameroon after the Internet was blocked in the Western regions. The country's Anglophone minority in the West is revolting against the government in the capitol Yaoundé.
Listen to the interview (in Dutch).
Check out the literature list, offering background information on the Anglophone crisis and Internet shutdown in Cameroon.
Posted on 2 February 2017, last modified on 16 February 2017