In Memoriam Harrie M. Leyten (1935-2023)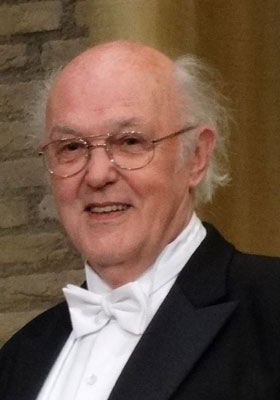 The African Studies Centre Leiden is very sad to report that in the morning of 28 March Dr Harrie Leyten passed away, 87 years of age. With his demise we lose a dear friend and an Africanist who has inspired countless people about Africa, its peoples and its art.
Read the 'In Memoriam' by Wouter van Beek below.
Raised in a catholic family in Helmond, Harrie entered the priesthood and became a missionary in Ghana in 1961, where he served in many capacities, both pastoral and in the ecclesiastical education system. It was during his mission that he realised that the Africans looked at their own culture and religion in a completely different way than the Catholic Church had taught him. So he opted for further study along these lines and read Social Anthropology at Oxford University under professor Wendy James; in 1974 he received his 'diploma Social Anthropology', and in 1976 his M. Litt. This academic experience induced him to resign his priesthood in 1975. Helped by his earlier experience at the Afrika Instituut in Cadier en Keer, he then took up a position as Africa curator in the Tropenmuseum (Tropical Museum) in Amsterdam. In that capacity he was instrumental in the transition from a traditional ethnographic museum into a centre for development cooperation, and during that process he curated over twenty important exhibitions on Africa cultures. In 1984 he was invited by the University of Amsterdam to lecture in museology, a position he held till 1997, when he was engaged by the Reinwardt Academy until his retirement in 2002.
Personally I had met Harrie during my own work at the Utrecht Department of Cultural Anthropology. For the student excursions I led to the Tropenmuseum, co-Africanist Harrie was the obvious port of call; he was a very stimulating host in the museum, much appreciated by the students. After his retirement and my move to Tilburg University we met again in HOVO courses (Hoger Onderwijs voor Ouderen) and he once assisted me in a Tilburg course on African masks. Since he still had so much to tell about Africa, I suggested him to write a dissertation, a suggestion he not only quickly took up, but for which he even had a topic ready: the shifting interpretations of African art objects over the three disciplines: missionary, anthropologist and museum curator, representing three crucial phases in his life. And so it happened. On 15 April 2015 he defended his thesis From idol to Art. African 'objects-with-power': a challenge for missionaries, anthropologists and museum curators, published by the ASCL. For Paul Post and me as 'promotores' this was a very memorable occasion; never before did we have a PhD candidate of 80 years; we referred to him as our 'young dashing talent', for that is how he remained, despite age. The photo shows Harrie at the ceremony.
During a train journey just before his defence, he worried how to fill his time after his promotion. Amused by an 80 year old worrying about a black hole after graduation, I suggested him to write a book on African masks. Since he could not do that alone, and neither could I, we decided then and there to write it together. And so his second major book project started eight years ago, a co-production that intensified our contact and friendship, a project that grew under our hands, changed course at least twice, but ultimately resulted in a manuscript called Masks in African Society: Gender, Power, and Identity; it is in production now and will appear end of this year at James Currey, Oxford. It has morphed into a different book than originally planned and took much longer than expected, so the rapid deterioration of his health has prevented him from seeing it in print. In fact, the final corrections were made during his very last living hours.
His memory will remain, not just with this book, but mainly through the many people he inspired about Africa. Those who met him depicted him as a special, passionate and inspirational colleague, dashing yes, young no longer. Harrie was the 'knuffel-opa' of staff of the African Studies Centre Leiden, and will be fondly remembered. He has lived life to the full. Our deepfelt condolences go to his wife Clémence, his children and grandchildren.
Wouter van Beek
Visit the website 'Afrika', built by Harrie and based on the readers about African cultures he compiled for his students.
Harrie wrote the introduction to a web dossier on African Art in 2016, on the occasion of the then organised Studium Generale on African Art and LIterature.
Posted on 31 March 2023, last modified on 16 May 2023