LeidenASA Seminar: African topographies in India: mapping a research across Indian Ocean heritages, African prints and art practices
Primary tabs
This presentation draws on Pedro Pombo's ongoing research as a LeidenASA ASC-IIAS fellow that aims to situate the contemporary presence of Africa in India through three main locations: the (in)visible presence of diverse Afro-Indian communities, the production of African prints by Indian textile companies and art projects that critically approach the recent violence faced by African migrants in the country. While proposing disciplinary crossings, he researches for the possibilities of widening critical engagements with histories of Afro-Indian fluxes and the ways past heritages have been simultaneously informing the present and erased from contemporary discourses.
While the recent African migrant communities in Guangzhou, Hong Kong or New Delhi has been understood as connected to recent economic trends of Asian presence in Africa, it also demonstrates the permanence of circulations across the continents and the formation of Afro-Asian communities particularly across the coastal South Asia and Western Indian Ocean islands. At the same time, the contemporary production of African prints in India, which has been overshadowed by the relevance of Chinese production centers, translates the survival of maritime networks of trade and kinship beyond the well-studied periods of nineteenth and early twentieth centuries and among the extremely dynamic contexts of Asian and African independences. Finally, art projects that engage with a contemporary presence of African migrants in India are crucial to uncover racial discourses and imaginations that co-exist with heritages of the Bandung spirit and Afro-Asian solidarities in earlier decades.
This research engages, then, with critical approaches to the ideas of archive and museum, material and intangible heritages and Afro-Asian memories in order to tie disparate locations of memory that inhabit the Asian space and think what future heritages can be imagined from the contemporary realities.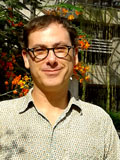 Pedro Pombo has been a Visiting Assistant Professor of Anthropology at IIT Gandhinagar (India) since 2015 and will join Goa University (India) at the end of 2018. In 2015 he received his PhD in Anthropology from ISCTE- IUL, Lisbon (Portugal) with an ethnographic exploration on space, belonging, local history and personal archives in Southern Mozambique.
During his LeidenASA financed ASC-IIAS fellowshiphe will be working on the project "African topographies in India: (in)visible heritages, circulations and contemporary art". This project draws on-going research and aims at locating the contemporary presence of Africa in India within a chronological and geographical map, establishing a dialogue between the (in)visible legacies of the past and the contemporary Afro-Asian fluxes, through a cartography overlapping visual and material cultures, migration fluxes and critical art projects.
Date, time and location
Pieter de la Courtgebouw / Faculty of Social Sciences, Wassenaarseweg 52, 2333 AK Leiden
Posted on 11 October, 2018. Last modified on November 1, 2018