Lecture Series (8 Wednesday evenings): African Arts and Literatures Today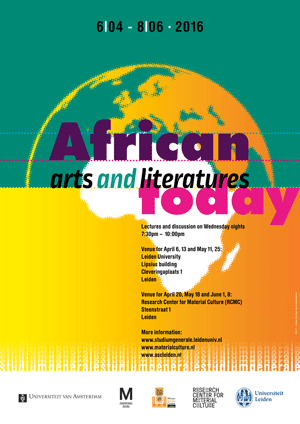 Together with Studium Generale, Leiden University, the Research Centre for Material Culture and the University of Amsterdam we proudly present a lecture series on African Arts and Literatures. Renowned authors and art scholars will speak during eight Wednesday evenings.
Read the web dossier on African art.
The programme in short:
6 April: LITERATURE AND ENGAGEMENT: Mineke Schipper (Leiden em. Professor of Intercultural Literary Studies) and Carrol Clarkson (Professor of Modern Literature at UvA),
13 April: LITERATURE: Fouad Laroui (author and scientist UvA)
20 April: NEW MEDIA, POPULAR CULTURE AND ANTHROPOLOGY: Mirjam de Bruijn (Leiden University), Kno'Ledge Cesare (Jerry Luther King Afriyie) and Croquemort (Didier Lalaye)
11 May: PERFORMANCE AND FILM: Astrid van Weyenberg (Leiden University) and Hanneke Stuit (UvA)
18 May: ART HISTORY: Barbaro Martinez-Ruiz (University of Cape Town)
25 May: LITERATUUR: Elisabeth Bekers (Lecturer of British and Postcolonial Literature at the Vrije Universiteit Brussel) and Yasmine Allas (author)
1 June: ART HISTORY: Chika Okeke-Agulu (Princeton University, art historian and art curator)
8 June: ARCHIVES AND CURATING: Christine Eyene (art historian) and Renee Mussai (curator)
Entrance: Free
Registration at Studium Generale
You don't need to register for the whole series; registration per evening is possible.
For more information mail to: studiumgenerale@sea.leidenuniv.nl
Date, time and location
06 April 2016

to

08 June 2016
Lipsius building (Leiden University) and National Museum of Ethnology Leiden
Posted on 9 February 2016, last modified on 15 April 2016