John Kegel awarded Kiem seed grant for new interdisciplinary research project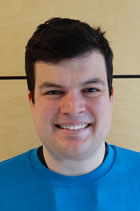 John Kegel has been awarded a Kiem seed grant from Leiden University for the project 'The re-enchantment of infrastructure in Africa: Comparing Colonial and Contemporary Coastal Corridors'. The Kiem grant is an initiative from the university to stimulate new interdisciplinary, interfaculty research partnerships and encounters. In this KIEM grant John Kegel will work together with Marleen Dekker (ASCL) and Sabine Luning (Institute of Cultural Anthropology and Development Sociology) to explore the relationship between historical and contemporary infrastructure projects in Africa. Sabine Luning has been working in this field within the LDE project Port City Futures.
One of the research objects is to make a comparison between West, North and East Africa. During an upcoming two-day workshop an interdisciplinary group of researchers from the Centre of African Studies of the University of Edinburgh, the Institute of African Studies of the University of Ghana in Legon, and the Netherlands Institute Morocco (NIMAR) will come together for exchanges and to set up a more comprehensive grant application.
This project is one of the 33 Kiem grants that have been awarded by Leiden University's Executive Board.
Posted on 14 September 2023, last modified on 15 September 2023