Introduction to the Special Issue: Policies for Inclusive Development in Africa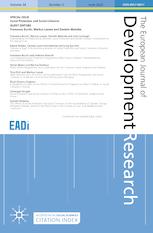 (Français: voir ci-dessous)
While there is increasing academic analysis and policy concern regarding growing inequality and the need for more inclusive development trajectories, it is equally important to advance our understanding of the pathways to attain more inclusive development in practice. This paper serves as the introduction to a special issue examining the empirical outcomes and processes of inclusive development policies in selected countries in Africa. The paper presents a policy implementation and assessment framework as a lens that connects the different case studies. The framework links general inclusive development strategies in employment, social protection and governance, to the participation and representation of the various stakeholders as well as the monetary and non-monetary transaction costs in accessing and/or implementing these programmes on the ground in different national and sub-national contexts. Based on the findings of the 9 case studies, the paper also advances policy directions and operational frameworks to attain more inclusive development in practice.
This article appeared ahead of print in the European Journal of Development Research, 12 August 2022, DOI: https://doi.org/10.1057/s41287-022-00561-x
Français
Bien qu'il existe une analyse académique croissante, et une préoccupation politique envers la montée des inégalités et la nécessite de trajectoires de développement plus inclusives, il est tout aussi important d'avancer notre compréhension des chemins qui permettent—dans la pratique—d'atteindre un développement plus inclusif. Cet article sert d'introduction à un numéro spécial examinant les résultats empiriques et les processus de développement inclusifs dans certains pays en Afrique. L'article présente un cadre d'implémentation et évaluation des politiques, tel que un prisme qui connecte les différents études de cas. Ce cadre relie des stratégies de développement générales (dans l'emploi, la protections sociale, et la gouvernance) à la participation et la représentation de différents partis intéressés, aussi qu'aux aux couts de transaction (monétaires et autres) dans l'accès à ces programmes et à leur implémentation sur le terrain, dans des contextes nationales et sous-nationales. Nous basant sur les résultats de ces 10 études de cas, l'article avance des directions de politique et des cadres opérationnels, ayant comme but la réalisation pratique d'un développement plus inclusif.
Cet article est paru dans le European Journal of Development Research, 2022, DOI : https://doi.org/10.1057/s41287-022-00561-x
Author(s) / editor(s)
Marleen Dekker and Nicky Pouw
About the author(s) / editor(s)
Marleen Dekker is Professor of Inclusive Development in Africa at Leiden University.
Nicky Pouw is Associate Professor in Economics of Wellbeing at the Governance and Inclusive Development research programme (GID) of the Amsterdam Institute for Social Science Research (AISSR), University of Amsterdam.
Posted on 2 September 2022, last modified on 19 September 2022