Infosheet: Rwanda at 60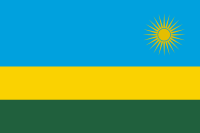 On the occasion of the Africa 2020 year, the ASCL created Infosheets about the countries that became independent in 1960. We have continued this series with countries that became independent in subsequent years. In 1962, Rwanda (and Burundi, see this Infosheet) became politically independent. Read about the country's turbulent history, the impact of the 1994 genocide, demographic and social-economic developments, agricultural developments, urbanisation and regional inequality.
Read the Infosheet.
This is ASC Infosheet 53. Read the other Infosheets.
Author(s) / editor(s)
Ton Dietz, David Ehrhardt, Lidewyde Berckmoes
About the author(s) / editor(s)
Ton Dietz is Professor Emeritus of the Study of African Development at Leiden University.
David Ehrhardt is Associate Professor at Leiden University College The Hague, and is specialised in international development.
Lidewyde Berckmoes is Associate Professor Regional Conflict in Contemporary Africa at Leiden University.
Posted on 13 October 2022, last modified on 26 January 2023