HANDS! Festival 2021 on African Sign Languages and Deaf Studies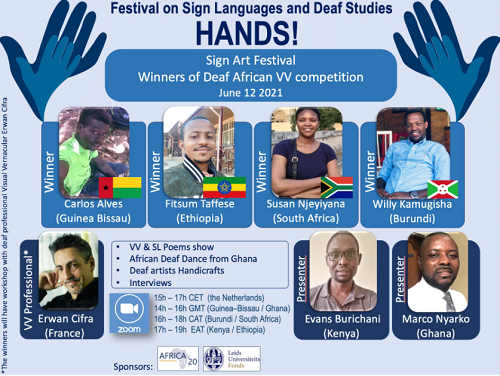 On 12 June 2021, Leiden University presents the HANDS! Festival to showcase the beauty of sign languages in Africa and the Netherlands. This event was orginally scheduled to take place in June 2020 within the framework of Africa 2020, but due to the COVID-19 pandemic, this event will instead take place online in June 2021 (via Zoom).
The HANDS! Festival features performances of the winning contributions of a sign language literature competition in various African countries, pop up talks by sign language researchers, and performances of deaf artists in the Netherlands.
Festival programme includes:
Visual Vernacular (VV) and Sign Language Poems Show

African Deaf Dance from Ghana

Deaf Artists Handicrafts

Interviews
To join this event (free of charge), please register through this link.
Posted on 22 March 2021, last modified on 21 April 2021