Film screening The African Who Wanted to Fly (together with Yangambi)
Primary tabs
From 6-8 October 2017, the Yangambi Platform for contemporary African arts and cultures will be organizing the second edition of the iAfrica Film Festival in Theater Korzo, Prinsestraat 42, The Hague. Yangambi offers a rich programme with feature films, documentaries, short films, animation films, live music, masterclass, photo exposition and much more. For updates about the iAfrica Film Festival, check Facebook and register for the newsletter.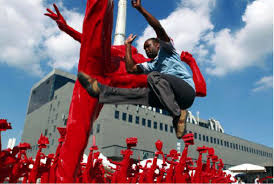 As a kick-off, the ASC Leiden presents the interesting documentary The African Who Wanted to Fly. Take a look at the trailer.
The film tells the extraordinary destiny of Luc Bendza, a young man in Gabon who dreams of flying like the fighters in the martial arts. He leaves for China in the eighties and makes his dream come true using his strong will and perseverance. Today he is a 'Wushu' (Kung Fu) master.
This film won the Adiaha Award for Best African Female Documentary at the Zanzibar International Film Festival (ZIFF).
Director: Samantha Biffot
Length: 70 minutes
Language: French and Chinese, with English subtitles
Programme:
17:00 Room open
17:15 Opening address by Yangambi
17:20 Short presentation by Samson Bezabeh on Africa-China relations in a wider perspective
17:35 Screening The African Who Wanted to Fly
19:00 Concluding remarks, and drinks
Date, time and location
Pieter de la Courtgebouw / Faculty of Social Sciences, Wassenaarseweg 52, 2333 AK Leiden
Posted on 31 July 2017, last modified on 21 September 2017