Evil in Africa: encounters with the everyday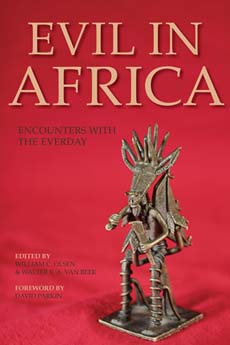 ASC senior researcher Walter van Beek and William C. Olsen (editors) and the contributors to this volume of essays seek to understand how Africans have confronted evil around them. Grouped around notions of evil as a cognitive or experiential problem, evil as malevolent process, and evil as an inversion of justice, the essays investigate what can be accepted and what must be condemned in order to evaluate being and morality in African cultural and social contexts. The studies of evil entanglements take local and national histories and identities into account, including state politics and civil war, religious practices, Islam, gender, and modernity.
Author(s) / editor(s)
Walter van Beek, William C. Olsen (eds.)
About the author(s) / editor(s)
Walter van Beek is a senior researcher at the ASC Leiden and Professor of Anthropology of Religion at Tilburg University.
William C. Olsen lectures in the African Studies Program at Georgetown University.
Posted on 24 August 2015, last modified on 17 September 2015