CRG Seminar: Teaching a more-than-human-sentience approach in African Studies through 'wild pedagogies'
Primary tabs
Two male white lions. Photo credits: Harry Wels.
Across disciplines there is a growing awareness, backed by robust scientific evidence, that humans are not unique in this world and that we share our sentience with other animal and plant species. The Cartesian divide between human, animals and plants can no longer be sustained: We differ not in kind but in degree. This holds across disciplines in academia, including African Studies. But how to teach students about this shared sentience? We argue that the classical lecture hall does not suffice. This emerging new scientific paradigm asks for equally new pedagogical approaches.
In this seminar we want to present you with one of these innovative pedagogical approaches, named 'wild pedagogy', which takes us first of all out of the lecture hall (and in this seminar that is a goat farm), but secondly also out of our comfort zone in many other ways. The latter we do around the theme of animal communication, the area of research in southern Africa of the current visiting fellow at the African Studies Centre Leiden, Dr Vanessa Wijngaarden.
Programme:
14:45 Arrival with coffee / tea
15:00 Introduction by Vanessa Wijngaarden (visiting fellow) and Harry Wels (convenor CRG)
15:30 Exchange with participants
16:00 Exploring animal communication with Boetje Broeders (professional animal communicator)
17:30 Drinks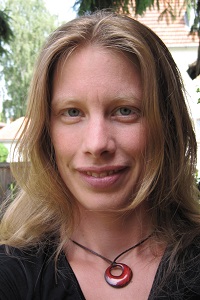 Dr Vanessa Wijngaarden is a senior research associate at the University of Johannesburg, with a background in social anthropology and political science. Some of her interests are 'othering' and stereotyping, multivocality in academia, and human-animal relationships. She teaches Q methodology and works as a certified ATLAS.ti senior professional trainer on three continents. With a passion for reflexive and dialogical approaches, methodological innovation, extensive fieldwork and creative research dissemination, she has made several nominated and awarded documentary films.
Date, time and location
Geitenboerderij Ridammerhoeve, Nieuwe Meerlaan 4, 1182 DB Amstelveen
Posted on 15 February 2022, last modified on 15 February 2022