Congrats to the African Studies (Research) Master graduates!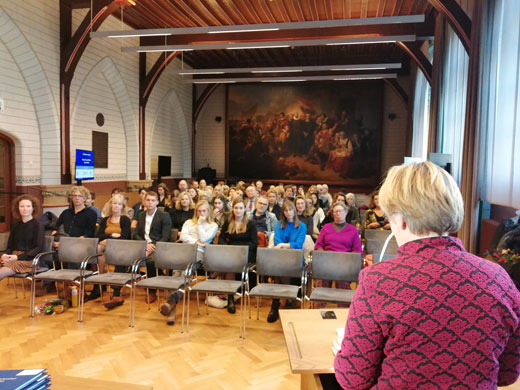 Thirteen students of the Master and the Research Master African Studies received their diplomas on 2 November during a festive ceremony in the Academy Building in Leiden. The graduates gave short presentations about their theses and their experiences during both lockdown and fieldwork, after which they received laudation from their supervisors. The graduates also traditionally placed their signature in the 'Zweetkamertje' of Leiden University. The ceremony was chaired by Karin Nijenhuis (photo left, seen on the back), Chair of the Master programme, in the presence of Victoria Nyst on behalf of the Board of Examiners African Studies, Mayke Kaag, Director of Studies at the ASCL, Azeb Amha, Chair of the Research Master Programme, and teaching staff.
Congratulations to all graduates: Robin van Andel, Roos de Raadt, Yangzhi Xu, Hodo Hassan (all four cum laude), Robin van Seumeren, Ine van de Voorde, Fransje Bolwijn, Oussama El Khairi, Marieke van der Heijden, Maartje Markus, Kuki Noordam, Ryohei Shiozaki, Bouwe Werker, and (not present at the ceremony) Daantje van de Linde, Mathijs Cazemier, Sara Gianesello, Ria Winters (all four cum laude), Júlia Arenós Karsten, Gilda Rodrigues and Sheki Lumumba.
Hyperlinked names link to their thesis in the online Leiden Repository, where most theses will become available in due course.
Photo right: Hodo Hassan giving her presentation. Behind the table: Victoria Nyst, Karin Nijenhuis, Azeb Amha, Akinyinka Akinyoade.
Posted on 4 November 2022, last modified on 12 December 2022