Collective volume 'Etat, société et Islam au Sénégal' festively presented in Dakar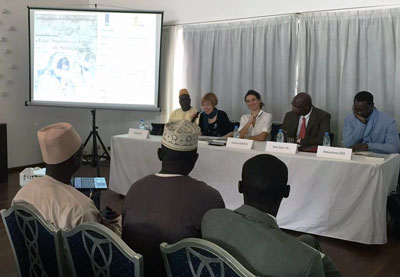 Last month, the collective volume 'Etat, société et Islam au Sénégal' (Karthala 2015), co-edited by Abdourahmane Seck, Cheikh Gueye, Abdou Salam Fall and ASCL researcher Mayke Kaag, was festively presented to an audience of policy makers, academics and journalists at the residence of the Royal Netherlands Embassy in Dakar. The event was covered by the Senegalese national newspapers Le Soleil and Le Quotidien. The day after, editors and authors discussed their findings and insights in two closed meetings with EU diplomats, among them all EU ambassadors. The meetings were highly valued by all present.
This outcome is all the more rewarding because the volume itself was born out of a special collaboration between researchers and diplomats, being the last offspring of a research programme on Islam in Senegal which ran between 2009 and 2012, during which a team of senior and junior Senegalese and Dutch researchers did research on questions brought up by the Royal Netherlands Embassy in Dakar. The programme had been coordinated by the ASCL and had yielded policy briefs and reports, networking meetings, a database and a publication for a wider audience. The present book is the academic output of the research programme, and it is good to experience that the findings are not only speaking to ongoing academic and societal debates, but are still of relevance to current diplomats, too.
Mayke Kaag
Posted on 31 March 2016, last modified on 4 April 2016