Collaboration and competition: market queens, trade unions and collective action of informal workers in Ghana's Makola Market
This paper focuses on informal workers in Makola Market, Accra (Ghana), and the ways in which they organize for collective action. Ghana has a long history of trade and this makes for well-developed and culturally embedded local institutions that have organized and represented the (informal) workersactive in markets. A prominent example is the market queens, who (cl)aim to oversee, protect and promote markets vis-a-vis the public and the (municipal) government. Yet, these social structures are not easily recognized as a kind of social movement by (inter)national trade unions. Hence trade union interventions and outreaches aimed at ameliorating the plight of informal workers tend to bypass and antagonize these existing formations, fuelling competition and division in the already fragmented and inherently competitive market space. Based on 2,5 year-long ethnographic research on strategic actors in inclusive development with a focus on informal workers, this article draws attention to empirical realities in Ghana. It demonstrates that bypassing culturally embedded groups is problematic because it feeds fragmentation and thus limits the possibilities for collective action.
The fieldwork was conducted in the context of the INCLUDE research project Increasing Political Leverage of Informal and Formal workers' Organisations for Inclusive Development: The cases of Ghana and Benin.
This paper has been published in Interface: A Journal for and about Social Movements, Issue 2, Volume 9, 2017.
About the author(s) / editor(s)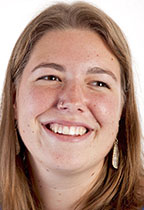 Since August 2016 Tanja Hendriks has been working for the ASCL as a junior researcher on labour relations and informal workers' organizations in the informal economy in Accra, Ghana. Her research is part of the NWO-funded project 'Increasing Political Leverage of Informal and Formal Workers' Organizations for Inclusive Development: The cases of Ghana and Benin'. The project is part of the research agenda of INCLUDE, the Knowledge Platform on Inclusive Development Policies in Africa.
Posted on 2 February, 2018. Last modified on February 2, 2018