Chibuike Uche chair holder new Stephen Ellis Chair for Finance and Integrity in Africa
Primary tabs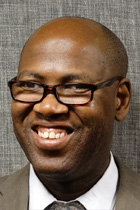 We proudly inform you that our senior researcher Dr Chibuike U. Uche has been appointed as the Chair holder for the new Stephen Ellis Chair for the Governance of Finance and Integrity in Africa at Leiden University. The Chair starts on 1 April and will be funded by the Netherlands Ministry of Foreign Affairs for the first three years. On 4 April, the Netherlands' outgoing Minister of Foreign Affairs, Mr Bert Koenders, will officially launch the Chair with a special video message. Dr Chibuike Uche will give a presentation. You are kindly invited for this event.
Registration on our website (below) is compulsory and you have to fill in your affiliation.
Programme:
15.30-15.40: Opening Ton Dietz, explanation of the Chair in the wider strategy of Leiden University and the African Studies Centre Leiden
15.40-15.55: Video message Minister Koenders
15.55-16.05: Launch ceremony of the Chair: on behalf of the Ministry of Foreign Affairs, Hans Docter symbolically hands over the subsidized Chair to Carel Stolker, Rector Magnificus of Leiden University
16.05-16.40: Acceptance speech Prof. Chibuike Uche
16.40-17.00: Q&A
17.00-18.30: Reception
Chibuike Uche has extensive research experience in Nigeria, Ghana and Sierra Leone in the fields of political economy, business and financial history, financial institutions regulation and regional integration. His current research interest is foreign business operations in Africa. Prior to joining the ASCL, he was Professor of Banking and Financial Institutions at the University of Nigeria and a member of the Monetary Policy Committee of the Central Bank of Nigeria. He has a PhD in Accounting and Finance from the London School of Economics.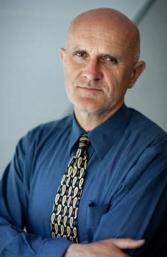 Stephen Ellis (1953-2015) was a renowned senior researcher at the African Studies Centre Leiden, and Desmond Tutu Professor at the Vrije Universiteit Amsterdam. He was a courageous, deeply inquisitive researcher, going further than most researchers of his generation to uncover hidden truths about Africa. He combined a great interest in how 'real politics' work and have an impact on people's lives, with a fascination for the role of religion and morality. He did so as a historian, with particular attention for the way history influences the present.
Date, time and location
Klein Auditorium, Academiegebouw
Posted on 8 March 2017, last modified on 4 April 2017