Book launch: Brewing Identity - The Role of South Africa in the History of Namibian Beer
Primary tabs
This book launch will be held in Dutch. It has been made possible with support from the Commission for South Africa of the Society of Dutch Literature (MdNL).
Namibian beer is immensely popular in Namibia and beyond. The beer that is brewed by Namibia Breweries Limited (NBL) has grown into the national beverage of the country and is thus deeply ingrained into the idea of an autonomous and inclusive Namibia, which has been an independent state since 1990. But for decades on end, the same brew from the same company was not available to the black population as a consequence of colonial politics.
The book Breweries, Politics and Identity: the History Behind Namibian Beer by Tycho van der Hoog aims to explain how a European style beer has been transformed from an icon of white settlers into the symbol of an independent Namibian nation. The role of the South African state and South African Breweries is a vital aspect of this story. Drawing on fieldwork in Namibia and South Africa, and based on a wide array of sources, including old beer bottles, letters, photographs and interviews with (former) brewers, this book highlights the special relationship between the beer industry and national politics.
"Not a beer drinker? No problem. Breweries, Politics and Identity looks through a warm amber-coloured lens to bring us a view not only of the beer industry but of a broad history of Namibia from the late 19th century to the present."
- Anne Mager, Emeritus Professor at the University of Cape Town and author of the book Beer, Sociability and Masculinity in South Africa (Indiana University Press, 2010).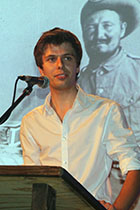 Tycho van der Hoog is a PhD student at the African Studies Centre Leiden and is working on the project 'Blood, Bullets and Bronze: North Korea in Southern Africa, 1960-2010'. He seeks to understand how and why southern African liberation movements and governments cooperate with North Korea, focusing mostly on the fostering of diplomatic ties, military cooperation and mutual construction projects.
His monograph Monuments of Power: The North Korean Origin of Nationalist Heritage in Namibia and Zimbabwe was published by the African Studies Centre Leiden in August 2019.
Tycho holds a bachelor's degree in history (2014), a bachelor's degree in political science (2014), a research master's degree in African Studies (2016) and a master's degree in history (2017) from Leiden University. He previously worked at the Centre for Frugal Innovation in Africa and he lectured in the bachelor programme Korean Studies of Leiden University.
Date, time and location
Pieter de la Court building / Faculty of Social Sciences, Wassenaarseweg 52, 2333 AK Leiden
Posted on 14 October 2019, last modified on 12 November 2019