Book launch 'Afrikaanse letterkunde. Tradities, genres, auteurs en ontwikkelingen'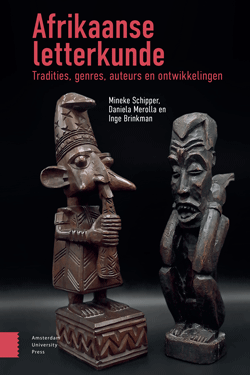 In May 2019, Afrikaanse letterkunde, so far the one and only handbook of African literature in the Dutch language, will come out in a brand new edition at Amsterdam University Press. Mineke Schipper first published the book in 1983 and then in an updated version in 1990.
The forthcoming AUP edition was co-written by Mineke Schipper, Daniela Merolla and Inge Brinkman. It includes new developments in African literatures over the last 25 years and more information on literature in African languages, and it explores the literary connections between Africa south of the Sahara and North-Africa.
The new edition will be celebrated with a festive programme including the following speakers: Annachiara Raia, specialist on oral and written African literatures and Leiden University lecturer, Asis Aynan, writer and initiator of the 'BerberBibliotheek', a series in which classical books from Berber countries appear, and Ama van Dantzig, creative thinker about the arts, Africa and the world. Brief comments on the book by each of the authors will be followed by a convivial reception offered by the publisher.
Read the interview with Mineke Schipper.
Moderator: Annachiara Raia, LUCAS and ASCL
You can purchase the book at the booklaunch for € 29.95 (pin or cash).
Programme:
15.00-15.10 Welcome speech by ASCL director Jan-Bart Gewald
15.10-15.25 Presentation by Annachiara Raia 'Reading African-language literatures'
15.25-15.40 Presentation by Asis Aynan: 'Berberliteratuur' (in Dutch)
15.40-15.55 Presentation by Ama van Dantzig
15.55-16.10 Tea/coffee break
16.10-16.25 Short presentation of each of the authors on their contributions to the book
16.25-16.35 Presentation of the newly published book to the authors, by Prof. Peter Geschiere
16.35-17.00 Questions & answers, and possibility to purchase the book
17.00-18.00 Drinks offered by Amsterdam University Press
Date, time and location
Pieter de la Courtgebouw / Faculty of Social Sciences, Wassenaarseweg 52, 2333 AK Leiden
Posted on 29 March 2019, last modified on 16 May 2019