ASCL Seminar: Girls' Education, Neoliberal Subjectivity, and Sacrifice in Niger
Primary tabs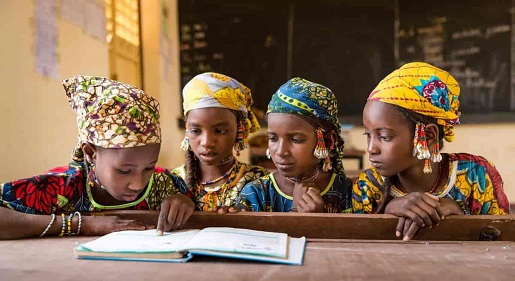 Girls' education in Niger. Photo credits: Kelley S. Lynch.
This event will be held physically in Leiden. For registrees who cannot travel to Leiden a link to an online platform will be sent one day before the start of the event.
In Niger, the world's least educated nation, girls are described as both vulnerable beings in need of protection and subjects imbued with unique potential, including the capacity to transform their country's fortunes. To protect girls from harmful practices, such as early marriage, and, at the same time, unlock their unique capacities, parents must send daughters to school, rights activists, celebrities, and other advocates of girls' education proclaim. While nationwide discussions highlight how boko (Western education in Hausa) has become a lightning rod for Muslim activists' discontent with foreign intervention, adolescent schoolgirls parrot the slogans coined by non-governmental organisations and corporate responsibility projects to highlight the economic benefits of investing in girls. They cast themselves citizens of the future who, once empowered by education, will care for families, jumpstart local economies, and pull Niger out of poverty. This seminar traces a major contradiction in the vision of progressive futures peddled by development through its instrumentalisation of education in Niger: on the one hand, girls are treated as ideal neoliberal models of self-reliance and self-making; on the other, they must sacrifice themselves for the common good.

Adeline Masquelier is Professor of Anthropology at Tulane University, USA. As a sociocultural anthropologist, she has conducted research in Niger, West Africa, for over thirty years on topics such as religion, gender, health, youth cultures, education, and environmental issues, and authored three books based on her research. Her first book
Prayer Has Spoiled Everything: Possession, Power, and Identity in an Islamic Town of Niger
(Duke University Press, 2001) argues that while spirit possession practices have become marginalised, even maligned in some quarters, they remain deeply relevant to people's life projects. Her second book
Women and Islamic Revival in a West African Town
(Indiana University Press, 2009) received the 2010 Herskovits Award for best scholarly book on Africa and the 2012 Aidoo-Snyder prize for best scholarly book about African women. It explores how emerging Muslim ideologies of gender, morality, and domesticity have enabled women to anchor their religious identities as guardians of moral values while also limiting their modes of autonomy and self-expression. Her latest book
Fada: Boredom and Belonging in Niger
(University of Chicago Press, 2019), which was a finalist for the Best Book Prize awarded by the African Studies Association and received a special commendation for the Amaury Talbot Prize from the Royal Anthropological Institute, focuses on urban youth, unemployment, masculinity, and sociality.
Date, time and location
Pieter de la Courtgebouw / Faculty of Social Sciences, Wassenaarseweg 52, 2333 AK Leiden
Posted on 13 January 2023, last modified on 19 April 2023