ASCL Seminar: Border closures in East and Central Africa: asymmetry, severance, and disruption
Primary tabs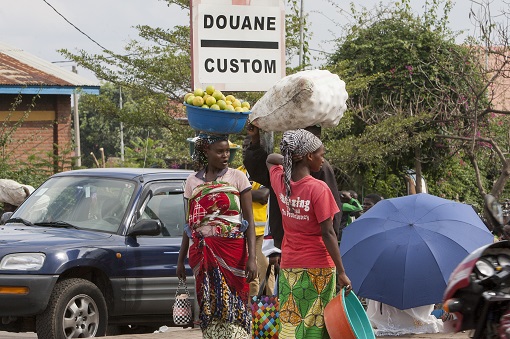 Women waiting at the border between Rwanda and the DRC. Photo credtits: World Bank Photo Collection (via Flickr).
This event will be held physically in Leiden. For registrees who cannot travel to Leiden a link to an online platform will be sent one day before the start of the event.
The closure of international borders is among the most contentious political issues of our time. Although this is a matter of global concern, Africa in particular offers a wealth of fresh empirical material on how and why borders are closed. This lecture by Hugh Lamarque (The University of Edinburgh) offers empirical and theoretical contributions, drawing on key examples from East Africa and the Great Lakes Region to illustrate some of the political pressures around closing borders, some of the practical challenges, and to outline an analytical framework focused on the concept of cross-border asymmetry. Despite a rapidly growing literature on borderlands in Africa, a systematic analytical framework for this kind of event has yet to be developed. This is not surprising. Border closure is a more intangible subject than it may appear. In most cases, the closure is partial, both with regard to the sections of the border affected, and also the sections of society prohibited from crossing it. The rival interests involved mean that events are often poorly documented and publicly disputed. The surge of closures and reopenings that resulted from the COVID-19 pandemic has had profound and enduring consequences: closures have disrupted regional trade, collapsed survival economies of local traders, divided families, incentivised smuggling, and uprooted refugees. But many of these events predated the virus, and the paper looks beyond public health concerns to other motivations in history. It will also look to the future, as the continent adapts to its recent experiences.

Hugh Lamarque is a political scientist with a doctorate in politics from the University of London: SOAS. He has worked previously for the United Nations Development Programme (UNDP), the World Bank, the Social Science in Humanitarian Action Platform, Oxford Analytica, AKE Group, the British Institute in Eastern Africa, and as visiting research fellow at Lisbon University's Institute for Social Sciences. In 2020, he helped co-found the United Nations Africa Borderlands Centre, a cross-continental initiative housed in Nairobi. He is part of the Executive Committee of the African Borderlands Research Network (ABORNE) and is Africa Editor at the Journal of Borderland Studies (JBS). Lamarque is currently a Leverhulme Research Fellow at The University of Edinburgh.
Date, time and location
Pieter de la Courtgebouw / Faculty of Social Sciences, Wassenaarseweg 52, 2333 AK Leiden
Posted on 7 February 2023, last modified on 28 March 2023