ASCL Seminar: The Army and Politics in Zimbabwe: Mujuru the Liberation Fighter and Kingmaker
Primary tabs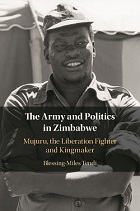 This event will take place online. Registrees will receive a link a few days before the lecture.
This talk focuses on the life of Solomon Mujuru, an illustrious African liberation fighter in the 1970s and, until his assassination in 2011, an important figure in Robert Mugabe's ruling ZANU PF party in Zimbabwe. The lecture draws on Tendi's biography of Mujuru, which throws much needed light onto the opaque elite politics of the 1970s liberation struggle, post-independence army and ZANU PF. Based on the unparalleled primary interviews with informants in the army, intelligence services, police and ZANU PF elites, Tendi examines Mujuru's moments of triumph and his shortcomings in equal measure. From his undistinguished youth and poor upbringing in colonial Rhodesia's Chikomba region, his rapid rise to power, and role as the first black commander of independent Zimbabwe's national army, this is an essential record of one of the most controversial figures within the history of African liberation politics.
Blessing-Miles Tendi is an Associate Professor in the Politics of Africa, in the University of Oxford's Department of Politics and International Relations (DPIR) and the African Studies Centre (ASC). Thematically, Tendi is interested in intellectuals and politics, civil-military relations, gender and politics, the existence and use of 'evil' in politics, intelligence studies, biographical research, and Southern African politics (especially Botswana, Zimbabwe, Madagascar, Lesotho,and Eswatini).
Posted on 16 February 2021, last modified on 28 May 2021