African Studies Centre Leiden part of Leiden University as of 1 January 2016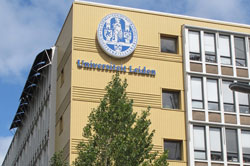 The African Studies Centre Leiden (ASCL) has become part of Leiden University as of 1 January 2016. An agreement to this end was signed on 16 December. After many years of working closely together, e.g. in the jointly offered Research Masters in African Studies, the unofficial ties between the two institutions have now become formal.

Leiden University becomes research & teaching hub on Africa
Leiden University wants to make Africa a more prominent element of its curriculum, while the African Studies Centre Leiden wishes to become part of a larger knowledge organization and integrate more into a teaching environment. With more than 100 Africa-related scholars, the integration will lead to the strengthening of research into and teaching about the economic, social, political, cultural and historical dynamics of African countries. The first 'Leiden African Studies Assembly' (Leiden ASA) Meeting took place on 8 December 2015.
Interfaculty institute
The ASCL has become an interfaculty institute with a Board that consists of deans from the most relevant faculties for the ASC: Humanities, Social Sciences and Law. The Dean of the Faculty of Humanities, Wim van den Doel, will be the Chair. Ton Dietz will remain the director of the African Studies Centre Leiden.
Fund announced for research on Africa
To make the ambitions of Leiden University in the field of area studies clear, a considerable fund will be made available to strengthen African Studies in Leiden.
Library
The ASCL Library and Information Services will remain a core activity of the ASCL. The ASCL Library and the University's Library will link their activities and co-develop a strategy to get more attention and more funds for acquisitions and for services related to information about Africa.
The ASCL will keep its current accommodation in the Faculty of Social Sciences in Leiden.
Posted on 14 December 2015, last modified on 12 February 2016