Leiden University invests in research on Africa - First Meeting of the Leiden African Studies Assembly
Over a hundred Africa scholars of Leiden University and the African Studies Centre Leiden met on Tuesday 8 December for the first 'Leiden African Studies Assembly' (Leiden ASA) Meeting, that is to take place on a yearly basis. To some an eye-opener to see so many Africa-researchers outside of the African Studies Centre, it appeared a very encouraging assembly for the new Africa strategy that Leiden University is developing alongside the integration of the African Studies Centre into the University (per 1 January 2016) as an interfaculty institute.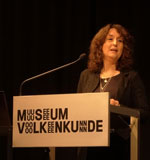 Co-chairs Simone Buitendijk (Vice Rector Magnificus) and Wim van den Doel (Dean of the Faculty of Humanities) announced that Leiden University wants to make Africa a more prominent part of its profile. The University's leadership has decided to stimulate the integration of the ASCL and UL by starting a Leiden African Studies Integration Fund. Goals of the Fund are 1) to support synergy and work towards research and teaching integration; 2) to support collaboration between the ASCL's library and the University Libraries and 3) to support a university-wide network with key African knowledge centres.
ASCL director Ton Dietz showed that the group of 100+ Africa-researchers makes Leiden comparable to SOAS in London and IMAF in Paris, and presented an overview of possible knowledge centres in Africa that could be selected as partners for Leiden's Africa policy. He also introduced a range of research topic that could be included in the new strategy.
Jos Damen (ASCL Library) explained the ASCL library's services and treasures (50% of the books are unique in the Netherlands) and suggested that all Africa researchers make their 10 best publications available Open Access. Kurt de Belder (Leiden University Libraries) highlighted the opening of a Leiden University Library 'branch' at NIMAR (Netherlands Institute in Morocco) in Rabat in 2016, as well as the fact that the Caribbean Digital Library will become available in 2016. Both library directors pointed out that additional budget for a University-wide Africa collection and information services will be more than welcome.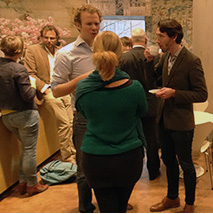 Energetic speed dating between all Africanists present - you were not to talk to someone you already knew - was followed by pitches by Africa scholars from all faculties: Mirjam de Bruijn (Humanities – history and ASCL researcher), Victoria Nyst (Humanities - linguistics), Daniela Merolla (Humanities - cultural studies), Leon Buskens (NIMAR), Jan Michiel Otto (Van Vollenhoven Institute), Armin Cuyvers (International Law), Peter Pels (Anthropology and Sociology), Jan Erk (Political Science), Geeske Langejans (Archaeology), Ria Reis (LUMC), Gerard Persoon (on behalf of Hans de Iongh, CML), and Benjamin Soares of the ASCL.
Discussions about what knowledge centres in Africa should be elected as partners, and what thematic areas should become the focus of a research and teaching agenda, only just started at this first meeting, and they will surely continue.
Fenneken Veldkamp
Posted on 14 December 2015, last modified on 7 January 2016