World Hemophilia Day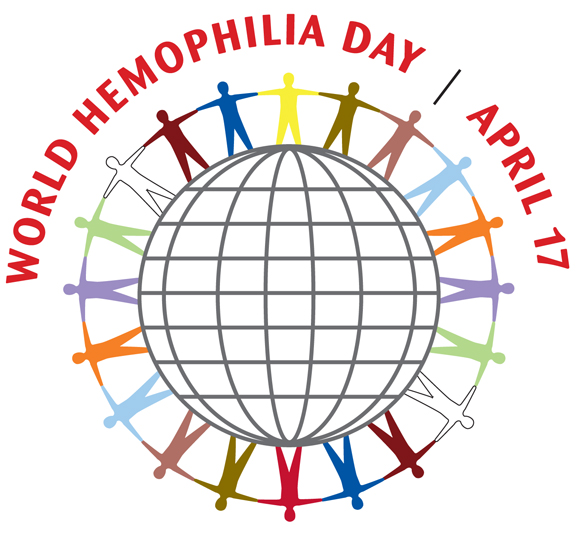 Every year, April 17 is observed as World Hemophilia Day. It is an international awareness day for hemophilia and other bleeding disorders and also marks the birth anniversary of Frank Schnabel, the founder of the World Federation of Hemophilia (WFH). The theme of the event this year is 'Access for All: Prevention of bleeds as the global standard of care'.
Blood disorders include the sickle cell disease (SCD). The most common type is known as sickle cell anaemia. It results in an abnormality in the oxygen-carrying protein haemoglobin found in red blood cells. This leads to a rigid, sickle-like shape under certain circumstances. Problems in sickle cell disease typically begin around 5 to 6 months of age. A number of health problems may develop, such as attacks of pain (known as a sickle cell crisis), anemia, swelling in the hands and feet, bacterial infections, and stroke. Long-term pain may develop as people get older.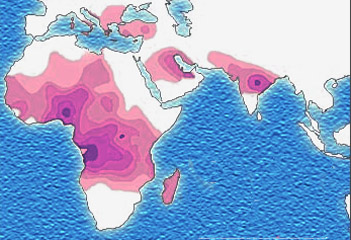 As of 2015, about 4.4 million people have sickle cell disease, while an additional 43 million have sickle cell trait. About 80% of sickle cell disease cases are believed to occur in Sub-Saharan Africa. It also occurs to a lesser degree in parts of India, Southern Europe, West Asia, North Africa and among people of African origin living in other parts of the world.
Selected publications
Hemophilia care in Africa: Status and challenges / D.N. Mbanya [and others].
In: Transfusion clinique et biologique : journal de la Société française de transfusion sanguine, 2021, Vol.28 (2), p.158
Capacity building for inherited bleeding disorders in sub-Saharan Africa / Johnny Mahlangu [and others].
In: Blood advances, 2019, Vol.3 (Suppl 1), p.5-7
Home therapy for inherited bleeding disorders in South Africa : results of a modified Delphi consensus process / Johnny Mahlangu [and others].
In: South African medical journal, 2019, Vol.109 (9), p.639-644
Improving access to hemophilia care in sub-Saharan Africa by capacity building / Saliou Diop [and others].
In: Blood advances, 2019, Vol.3 (Suppl 1), p.1-4
Sickle cell disease
I'm a survivor : the story of my triumph over sickle cell pains / Olaitan Mohammed Shehu. - Abuja, Nigeria : Insight Books, [2021]
One day at a time : a sickle cell survival story / Kemi Tijani. - [Cork] : Arise & Flourish Books, 2021
Sickle cell disease in sub-Saharan Africa: transferable strategies for prevention and care / Kevin Esoh, Edmond Wonkam-Tingang, Ambroise Wonkam.
In: The Lancet. Haematology, 2021, Vol.8 (10), p.e744-e755
https://doi.org/10.1016/S2352-3026(21)00191-5.
Boom Boom / Jude Idada. - Nigeria : Winepress Publishing, an imprint of Noirledge Limited, [2019]
Mon combat contre la drépanocytose : la grande oubliée / Saboura Dounia Kagne. - Paris : L'Harmattan, [2019]
Sickle cell disease in Africa: an urgent need for longitudinal cohort studies / Ambroise Wonkam, Julie Makani.
In: The Lancet global health, 2019, Vol.7 (10), p.e1310-e1311
https://www.thelancet.com/journals/langlo/article/PIIS2214-109X(19)30364-X/fulltext
Stay with me / Ayobami Adebayo. - Ikeja, Lagos State : Ouida, [2017]
Sickle cell : simply explained / John Koramoa. - Bloomington, IN : AuthorHouse, 2014
My brother has sickle cell / Erica D. Gamble, Dwayne C. Robinson. - Bloomington, IN : AuthorHouse, 2014
Sickle Cell Disease: What can Africa Contribute? / Julie Makani.
Web lecture 2013
https://videocast.nih.gov/watch=12301
How my daughter is a survivor of sickle cell disease / Adrienne F. Easter. - Bloomington : Authorhouse, 2010
The Global Burden of Sickle Cell Disease (SCD): Approaches to mitigate SCD health care disparities through collaborative research in sub-saharan Africa
Lecture by Andrew Campell (2018)
Posted on 17 April 2023, last modified on 17 April 2023