Tunde Kelani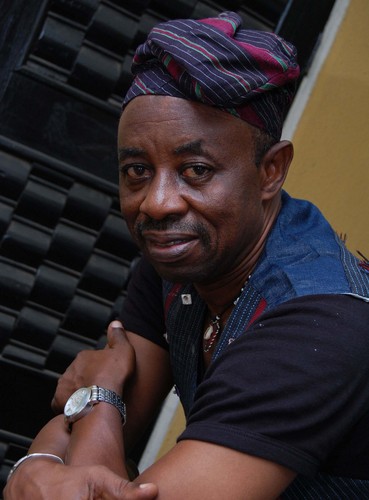 On 26 February 1948, Nigerian filmmaker Tunde Kelani, popularly known as TK, was born in Lagos. In a career spanning more than four decades, TK specialises in producing movies that promote Nigeria's rich cultural heritage and have a root in documentation, archiving, education, entertainment and promotion of the culture.
He is also known for his love of adaptation of literary material into movies as most of his works have followed that style of filmmaking, including Ko se Gbe, O le ku, Thunder Bolt, The Narrow Path, White Handkerchief, Maami and Dazzling Mirage.
At an early age, TK was sent to Abeokuta, to live with his grandparents. The rich Yoruba culture and tradition he experienced in his early years, coupled with the experience he garnered at the London Film School where he studied the art of filmmaking, prepared him for what he is doing today.
(Source: Wikipedia)
Selected publications
Films
Maami / Tunde Kelani [and others]. - Lagos : Ajimson Integrated Services Ltd., [2014?]
Arugbá / Tunde Kelani. - Lagos : Mainframe productions, [2008]
The narrow path / Tunde Kelani; Solo Asedeko. - [S.l.] : Mainframe Film and Television Productions, 2006
The campus queen / Tunde Kelani; Segun Adefia. - Lagos : Mainframe Film and Television Productions, 2003
Thunderbolt / Tunde Kelani. - San Francisco, CA : California Newsreel, 2000
Saworoide / Tunde Kelani; Kola Oyewo. - Lagos : Mainframe Film and Television Productions, 1999
Ayo ni mo fe / Tunde Kelani. Lagos : Mainframe Film and Television Productions, [1994]
Publications about Tunde Kelani and his work
Interview with Tunde Kelani / Tunde Onikoyi.
In: African studies review, 2021, Vol.64 (1), p.E1-E25
Túndé Kèlání, Global Cinema and Philosophical Engagements / Adeshina Afolayan & James Yékú [and others].
In: Journal of African Cultural Studies, Volume 32, Issue 4 (2020), pages 343 - 441
Nollywood : the creation of Nigerian film genres / Jonathan Haynes. Chicago ; London : The University of Chicago Press, ©2016
KÒṢEÉGBÉ (1995) - A TUNDE KELANI CLASSIC MOVIE
Timeline of Nigerian film producers via DBpedia and Wikidata
Posted on 26 February 2023, last modified on 6 March 2023