Tayeb Salih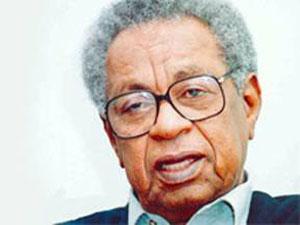 On 12 July 1929, Sudanese writer and cultural journalist Tayeb Salih was born in Karmakol. He is best known for his novel 'Season of Migration to the North', considered to be one of the most important novels in Arabic literature. His novels and short stories have been translated into English and more than a dozen other languages.
Salih graduated from University of Khartoum with a Bachelor of Science, before leaving for the University of London in the United Kingdom. Coming from a background of small farmers and religious teachers, his original intention was to work in agriculture. However, excluding a brief spell as a schoolmaster before moving to England, he worked in journalism and the promotion of international cultural exchange.
For more than ten years, Salih wrote a weekly column for the London-based Arabic language newspaper 'al Majalla', in which he explored various literary themes. He worked for the BBC's Arabic Service and later became director general of the Ministry of Information in Doha, Qatar. The last ten years of his working career, he spent at UNESCO headquarters in Paris, where he held various posts and was UNESCO's representative for the Arab states of the Persian Gulf.
Salih's writing draws important inspiration from his youth in a Sudanese village; life that is centered on rural people and their complex relationships. "At various levels and with varying degrees of psychoanalytic emphasis, he deals with themes of reality and illusion, the cultural dissonance between the West and the exotic Orient, the harmony and conflict of brotherhood, and the individual's responsibility to find a fusion between his or her contradictions." Furthermore, the motifs of his books are derived from his religious experience as a Muslim in 20th-century Sudan, both pre- and post-colonial. Another, more general subject of Salih's writing is the confrontation of the Arab Muslim and the Western European world.
Salih died on 18 February 2009 in London at the age of 79.
(Source: Wikipedia)
Selected publications
Publications by Tayeb Salih
Mansi: a rare man in his own way / al-Ṭayyib Ṣāliḥ; Adil Babikir. - London : Banipal Books, [2020]
Bandarchâh : roman / al-Ṭayyib Ṣāliḥ; Anne Wade Minkowski. - Paris : Sindbad, 1985
Saison de la migration vers le Nord / al-Ṭayyib Ṣāliḥ; Abdelwahab Meddeb; Fady Noun. - Paris : Sindbad, 1983
Le migrateur : récit / al-Ṭayyib Ṣāliḥ; Fady Noun; Jacques Berque. - Paris : Sindbad, 1972
The wedding of Zein & other stories / al-Ṭayyib Ṣāliḥ; Denys Johnson-Davies; Ibrahim Salahi. - London [etc.] : Heinemann, 1969
Publications about Tayeb Salih and his work
The Sudanese-Arab writer Tayeb Salih : a study of his journals, short stories and novels / Constance E. Berkley. - Lewiston [etc.] : Edwin Mellen, cop. 2013
Individuation and the shaping of personal identity : a comparative study of the modern novel / Frode Saugestad. - Wiesbaden : Reichert, 2009
Tayeb Salih : ideology and the craft of fiction / Waïl Hassan. - Syracuse, N, 2003
Robert Irwin Lecture on Tayeb Salih's 'Season of Migration to the North', British Library, London, 7 November, 2017
Timline of Sudanese novelists via Wikidata and DBpedia
Posted on 9 July 2022, last modified on 11 July 2022