José Carlos Schwarz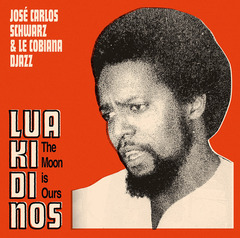 On 27 May 1977, one of the most famous Bissau-Guinean poets and musicians of the 20th century, José Carlos Schwarz, died near Havana at the age of 27. His works and actions have inspired generations of musicians, but he remains little known beyond the borders of his country.
José Carlos Schwarz was born in Bissau (Portuguese Guinea) from parents of Cape Verdean, Portuguese Guinean and German descent. After his high school education in Senegal and Cape Verde and a short stay in Lisbon, he returned to Guinea-Bissau in 1969. In 1970 he formed the Cobiana Djazz band with a group of friends (Aliu Bari, Mamadu Bá and Samakê). The band was a considerable local success, partly because the band started to play more and more gumbe, an original West African music style. Schwarz wrote in Portuguese and French, but he sang in Creole.
He also became politically active, and joined the resistance against the colonial ruler. He was imprisoned in the prison of the Ilha das Galinhas (Guinea-Bissau) for his participation in the struggle for the independence of his country. Inspired by this experience, he composed the song "Djiu Di Galinha".
Following the independence of Guinea-Bissau in 1974, Schwarz became director of the Department for Art and Culture, also responsible for Guinea-Bissau's youth policy. In 1977 he got a job at the Guinea-Bissau embassy in Cuba. On May 27 of the same year, Schwarz died in a plane crash near Havana.
(Source: Wikipedia)
Selected publications
José Carlos Schwarz, the decolonial legend from Guinea‑Bissau / by Shehrazad Siraj.
PAM Magazine, 29 March 2021 (Accessed on 20 May 2023)
https://pan-african-music.com/en/jose-carlos-schwarz-lua-ki-di-nos/
Música como arte da revolução: José Carlos Schwarz no processo de crítica social em Guiné-Bissau / RAG Cabi.
Revista África e Africanidades, ano XII, no. 30, 2019
https://www.africaeafricanidades.com.br/documentos/0140052019.pdf
A história social e política da Guiné-Bissau nas canções de José Carlos Schwarz / Valdo Augusto Malú.
Trabalho de Conclusão de Curso (Licenciatura em Letras - Língua Portuguesa) - Instituto de Humanidades e Letras, Universidade da Integração Internacional da Lusofonia Afro-Brasileira, São Francisco do Conde, 2018.
https://repositorio.unilab.edu.br/jspui/handle/123456789/1267
Canto, poesia, revolução na arte de José Carlos Schwarz / Robson Lacerda Dutra.
Revista Diadorim, volume 11, 2012
https://doi.org/10.35520/diadorim.2012.v11n0a3966
José Carlos Schwarz : the voice of the people / Adulai Jamanca.[Lisbon] : Lx Filmes, 2006
Ora di kanta tchiga : José Carlos Schwarz e o Cobiana Djazz / Parente Moema Augel. Bissau : INEP, 1997
See also José Carlos Schwarz on MusicBrainz
[Documentario] José Carlos Schwarz - A Voz do Povo (Parte 1)
For [Documentario] José Carlos Schwarz - A Voz do Povo (Parte 2) see https://youtu.be/IMzpwhUXwp4
Timeline of Bissau-Guinean poets via DBpedia and Wikidata
Posted on 20 May 2023, last modified on 22 May 2023