The unknown Van Gogh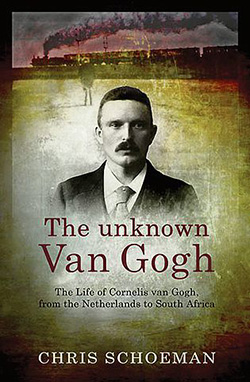 The unknown Van Gogh is not a publication about the discovery of another yet unknown work by Vincent van Gogh, but a biography of Cornelis (Cor) van Gogh (1867-1900). He was Vincent's youngest brother, who was raised in the Netherlands, but worked, married and died in South Africa.
Synopsis
Based on the extensive collection of the Van Gogh family letters in the Van Gogh Museum in Amsterdam, the book traces the circumstances of Cor's short life, from his pleasant childhood in the Netherlands to his move to South Africa in 1889 and his work in the gold-mining industry in the Transvaal Republic and for the Netherlands South African Railway Company. It sketches Cor's relationship with his now famous brother and describes in greater detail his participation on the Boer side in the Anglo-Boer War, including his death in a hospital in Brandfort - one that holds a troubling resemblance to Vincent's own tragic end.
Chris Schoeman's nicely illustrated biography of the lesser-known Van Gogh brother reveals a side of art history never before explored, recreating the last decade of nineteenth-century South Africa and providing fresh analysis on the Van Gogh family.
Biography
Chris Schoeman was born in Somerset East, South Africa and has master's degrees in history from the universities of Port Elizabeth and Colorado State. He has worked as a historian and journalist, and has authored and co-authored several books. These include District Six: The Spirit of Kanala, Boer Boy: Memoirs of an Anglo-Boer War Youth, Brothers in Arms: Hollanders in the Anglo-Boer War, Angels of Mercy: Foreign Women in the Anglo-Boer War, Churchill's South Africa and The Historical Karoo.
Author Chris Schoeman on his book "The unknown Van Gogh"
Novel
Cor van Gogh's life was also portrayed in a South African novel. Etienne van Heerden incorporated the story of Van Gogh's life in his novel 30 nagte in Amsterdam (30 nights in Amsterdam). The main character, Henk de Melker, a lowly museum assistant who writes a biography about Cornelis van Gogh, comes to Amsterdam to find out about and confront the secrets of his past. For more publications by Etienne van Heerden see the ASCL catalogue.
Ursula Oberst

Posted on 21 January 2019, last modified on 22 January 2019