Photobooks: Malick Sidibé and 'Sahara rocks!'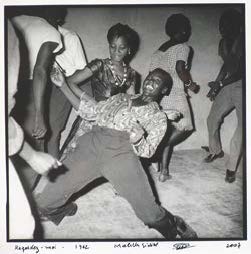 Malick Sidibé, one of Africa's most influential photographers, died on 14 April at the age of 80. Sidibé was best known for his black-and-white portraits, showing the lives and culture of youth in his native Bamako, Mali, in the 1950s, 60s, and 70s. He received the Golden Lion Award for Lifetime Achievement at the 2007 Venice Biennale, the first time this award has been given to either a photographer or an African artist. The ASCL Library has a number of items by and about Sidibé, including photobooks, exhibition catalogues and two documentary films.
In an interview conducted by Dutch newspaper NRC in 2008, Sidibé commented that he was not interested in capturing misfortune; instead, he concentrated on the swing, hope and energy of a new generation of independent Malians. This view is largely shared by the creator of a recent photobook on northern Mali and the broader Sahara, newly acquired by the ASCL Library: Sahara rocks!, by French photographer Arnaud Contreras. According to the artist: "a book on the Sahara today, its youth, its musicians, and their struggles. A documentary work about a modern desert that rocks with the beat of electric guitars, rock and blues." In a time where most of what we hear in the media from this region focuses on security and terrorism, he attempts to give voice to Saharan musicians, and a Sahara rooted in tradition, but anchored in the 21st century.
The works of both artists are part of our collection of pictorial works and exhibition catalogues, which now holds approximately 1500 items. We collect these works, and other forms of cultural expression, such as literature and films, because cultural expressions can give important insights into African cultures and minds. Or, in the case of photobooks, because sometimes a picture says more than a thousand words.
More links:
Germa Seuren
Posted on 2 May 2016, last modified on 18 December 2017