Nigerian books on languages and linguistics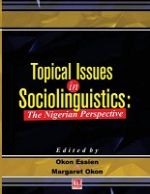 Topical issues in sociolinguistics: The Nigerian perspective was re-issued in 2020, after first appearing more than a decade earlier. The book is part of a series of volumes on Nigerian languages and linguistics published or re-issued in recent years by M&J, Port Harcourt, Nigeria. These publications are already impressive in terms of their physical appearance: they are sizeable in both format — (almost) A4 — and in number of pages. Volumes of 600-900 pages are no exception, such as, for example, the Festschrift for Ayo Bamgbose, who became the first professor of Linguistics in Nigeria in 1968, Nigerian languages, literatures, culture & reforms : A Festschrift for Ayo Bamgbose.
Attractive and offering a pleasant reading experience — the font is relatively large — the M&J Port Harcourt volumes bring together a variety of interesting papers on an array of linguistic and language-related topics. The books provide a most welcome overview of linguistic research in Nigeria, a country that is home to no less than 522 living languages, of which 512 are indigenous (Ethnologue 2021).
Sociolinguistics insights for policymaking
At less than 400 pages, Topical issues in sociolinguistics is one of the more modestly sized Port Harcourt volumes. The editors, Okon Essien and Margaret Okon, write in their introduction that their aim was to bring together 'more tangible and more relevant [studies] in a discipline which has been growing more and more abstract, for decades now in its search for a theory of grammar.' In a society where children typically grow up amidst a variety of languages — in the neighbourhood, at school, in the market, at social and religious gatherings, in the family — sociolinguistic insights are particularly important for decision-making in matters of educational policy and development.
Several papers in Topical issues in sociolinguistics deal, in one way or the other, with issues of language policy and practice. Some papers take a more ethnographic approach, examining such topics as expressions of politeness as a reflection of social position and social relations, and ways that women express themselves in satirical songs.
In defence of linguistic pluralism
The opening paper of Topical issues in sociolinguistics is 'African language use and development: Aspirations and reality', Ayo Bamgbose's keynote speech at the 2nd World Congress of African Linguistics (WOCAL), organized in Leipzig in 1997. Previously published in 2000, in the proceedings of that conference, Bamgbose's defence of linguistic pluralism and his hopes and aspirations for African languages as well as his call for realism regarding what can actually be achieved, have remained relevant ever since.
Special Chair of Ethnolinguistic Vitality and Diversity in Leiden
Worldwide, issues of language rights, multilingualism and cultural diversity have become increasingly important. We are very happy about the appointment of Felix Ameka as Professor of Ethnolinguistic Vitality and Diversity holding the CIPL/CIPSH Chair recently created at Leiden University. Congratulations!
Heleen Smits
Posted on 3 March 2021, last modified on 1 December 2022