New films on Congolese society by Dieudo Hamadi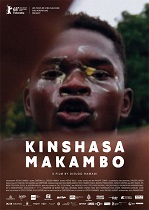 Dieudo Hamadi belongs to a new generation of contemporary African filmmakers. Born in 1984 in Kisangani, the Democratic Republic of Congo is still his home. Initially studying medicine, he later learned filmmaking through various documentary and editing workshops in Brussels and Paris. Hamadi now has his own production company, Kiripifilms. His films won many awards and in 2019, he was awarded the McMillan-Stewart Fellowship in Distinguished Filmmaking by Harvard University's Film Study Center. In each of his films, Dieudo Hamadi questions the (dys)functional institutions of his country and shows how people cope with them. In an interview in Jeune Afrique, Hamadi said he wants to show the reality of Congolese society. He portrays - without comments or voiceover - people who keep the country going with extraordinary energy or tenacity. The ASCL Library recently acquired his two most recent documentary films.
Youth protest
In Kinshasa Makambo (2018), the filmmaker follows three young Congolese men who are fighting for political change and free elections. It is late 2016 and President Joseph Kabila refuses to relinquish power. Christian is a political activist, Ben has returned on a fake ID from exile in the US, and we see Jean-Marie welcomed by his family after being kidnapped and tortured in prison. His family did not even know if he was still alive. The parents of these young men do not approve of their actions and are afraid and resigned. Discussions are going on inside the youth citizen movement 'Quatrième voie' (Fourth Way): Should they join forces with the octogenarian opposition leader Étienne Tshisekedi and his Union for Democracy and Social Progress (UDPS) or not? Is dialogue with Kabila still possible, or must they prepare themselves for a popular uprising and the risk of a bloodbath? "Facebook and Twitter aren't going to help us," somebody says. The camera is in close-up all the time. We see running feet and hear heavy breathing during dangerous street protests, we look in the mirror and see how a man covers his face with butter against the tear gas. A master of moving details, Hamadi shows one of the men carefully ironing his T-shirt, which we later see him wearing in a street protest.
Fighting for compensation
In June 2000, Rwanda and Uganda fought for six days in the streets of Kisangani, the filmmaker's hometown, in the east of the country. The Six-Day War of Kisangani ended with more than 1000 dead and 3000 wounded. For two decades, the victims of the Six-Day War have been fighting for the recognition of this bloody conflict and demanding compensation. Again, Dieudo Hamadi follows a group of people fighting for their rights in Downstream to Kinshasa (En route pour le milliard, 2019). This time, he has chosen the Troupe les zombies de Kisangani – a theatrical performing group made up of survivors of the Six-Day War, who decided to voice their claims in Kinshasa. The camera moves in close as the group crams onto a riverboat, taking on a long and uncomfortable journey down the Congo River to Kinshasa. Once in the capital, we witness a lot of waiting around, members of the group lying together on the bed, massaging each other's painful amputation stumps, and discussing how to proceed. Their parliamentary representative accompanies them as they climb the steps to the parliament with difficulty, only to be refused entry into the building. They go to the UN offices, but it is the same story. "Why are you here?" they ask the men in uniform guarding the huge building. Their representative tells them she must stop supporting them because it is election time and she has to work on her campaign. The film ends with a scene of the small group protesting at the side of the road, opposite yet another big building, as it starts getting dark and begins to rain softly. The film shows the resilience of these people, who are left in the cold by the government and sometimes even by their own families.
Downstream to Kinshasa was an Official Selection of the 2020 Cannes Film Festival.
More films by Dieudo Hamadi in our library:
Examen d'État (National diploma)
Article:
Gabara Rachel: National Diploma dir. By Dieudo Hamadi, and Mama Colonel dir. by Dieudo Hamadi (review)
Elvire Eijkman
Posted on 8 April 2021, last modified on 21 April 2021