New film: Le spectre de Boko Haram
Le spectre de Boko Haram focuses on daily life in the village of Kolofata in the Far North Region of Cameroon, near the border with Nigeria, where the Islamic terrorist movement of Boko Haram has been active since 2013. The documentary film is about the effects of living in a warzone under permanent military protection on this poor, remote village. What makes this film remarkable is that it concentrates on the life of the children in the village.
Daily life in a warzone
The filmmaker follows a group of children between 8 and 11 years old, who have experienced terrible things and must have multiple traumas, but who must carry on their lives, often separated from their parents who are either dead or missing. They go to school, do household chores, and play. But the presence of soldiers is everywhere. At school, during handicrafts, the children want to make a clay tank, an airplane or a rifle. The teacher doesn't like it, he wants them to make things "from their daily life," but this is their daily life.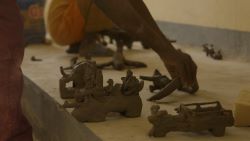 Children's perspective
In interviews, filmmaker Cyrielle Raingou states that she had long wanted to depict life in the Far North Region and the impact of Boko Haram's atrocities on the people there. But she wasn't satisfied with the form the project was taking, until she decided to focus on the children. The catalyst was meeting the brothers Ibrahim and Mohammed in Kolofata, who had fled their own village and are now taken care of by a foster family. This encounter made her decide to make the village of Kolofata the centre of her film. Filming was not without danger and the crew was always protected by soldiers. The children became so used to the camera that they no longer seem to notice that they are being observed. The result is very moving scenes, for example when the younger brother wants to know what his mother looked like and asks his brother to draw her picture in the sand. In another scene, when a girl asks her mother about her father who was killed in a Boko Haram attack, the mother says: "If you ask too many questions, I will cry. What is past, is past." According to Raingou, putting herself at the children's level allowed her to approach a dramatic situation with more lightness.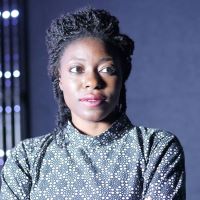 The filmmaker
Cyrielle Raingou was brought up in the Far North Region of Cameroon, not far from Kolofata. She now lives in Paris. Raingou has a Master's degree in law and in documentary filmmaking from the European Erasmus DocNomads Joint Master program. She is passionate about the concept and development of a certain African artistic identity, its promotion on an international scale and the economic interest it generates. She firmly believes that art can make a living in Africa. She often uses legends, metaphor and the symbolism of certain animals to support human stories in their complexity; and the mystery of life." When asked about her film heroes, she mentions the work of Djibril Diop Mambéty (Touki Bouki) and Jean-Pierre Békolo (Quartier Mozart, Le complot d'Aristote). She has made several short films: Challenge (2018), Requiem Prologue (2019), and The Lamb (2021, nominated for Best Short Film at Docudays UA International Documentary Human Rights Film Festival). Her follow-up short film Mama dan que Soriso (2022) and her first feature-length documentary Le Spectre de Boko Haram (2022), were selected for the International Film Festival Rotterdam (IFFR) 2023 and Le Spectre won the Tiger Award, the most important prize of the IFFR.
Watch the trailer
For more information on Boko Haram in Cameroon: check here
For Boko Haram in general, check what the library has on this subject
​Elvire Eijkman
Posted on 3 July 2023, last modified on 17 July 2023