My first time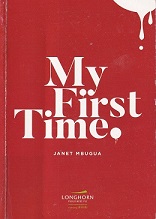 'Period poverty' is a term used to refer to the insufficient access of millions of girls and women around the globe to the sanitary products and facilities they need when menstruating. It is a situation that hugely affects girls' physical and mental well-being, and one that undermines their confidence to go to school. Schools that all too often lack basic sanitary facilities: separate toilets to change pads and panties, and water to clean themselves in private. Many girls miss classes for some days every month, fearing they might stain their clothes or smell bad, and fearing boys will ridicule them because of it. It is a situation that needs be addressed and to do this journalist and gender equality activist Janet Mbugua wanted to give period poverty 'a face', that is, many faces.
Personal stories
My First Time is a collection of personal stories of more than 50 Kenyan women about the first time they menstruated and how they dealt with their period as a girl. Some of them, like Janet Mbugua, were privileged enough to grow up in a family that could afford pads and where raising the subject did not feel taboo. Even so, Janet's first time was traumatic. She was only ten and her mother, who had thought there would still be time, had not informed her yet. Janet wondered if she was dying.
Secrecy, discomfort and shame
Others did not find the courage to ask for pads when their first period came, or even to tell their mother, as the subject seemed shrouded in mystery and taboo. They struggled, sometimes for years, with pieces of cloth, doing their best to wash them in secret and make them stay in place. One woman had been in prison, a place where menstrual products were lacking entirely. Anything and everything was used to catch the blood. Differently abled women narrate the additional challenges they faced. When you have a motor impairment and walking is difficult, it is even harder to let your cloth not get dislodged and drop to the floor. And it is every girl's nightmare to leak blood onto her clothes, but all the more so if she is blind and cannot check herself whether this is the case or not.
Shedding embarrassment
These engaging and potentially taboo-breaking stories communicate the realities of menstruation (blood can be bright red and abundant, but can also come in chunks, be brown, or slimy and smelly) and the confusion, anxieties, shame and pain girls face when they are insufficiently informed, cannot or dare not communicate about the subject with their caregivers, and/or are not provided with what they need to manage their period. But they are also stories of help and support from mothers, teachers, friends, and fathers. The diverse women who tell their story all managed at some point in their life to shed their embarrassment and speak about menstruation freely. Some men did so too and share their story as a witness and supporter.
The book contains beautiful pictures too. Against a bright red background it presents the portraits of each storyteller dressed in spotless white.
Additional sources:
'My First Time' - Janet Mbugua tells her story. Interview by Sharon Mundia.
UNESCO. 2020. Inclusion and Education: All Means All (Global Education Monitoring Report).
Heleen Smits
Posted on 31 March 2022, last modified on 1 December 2022