Man Booker Prize shortlisted novel "The Fishermen" by Chigozie Obioma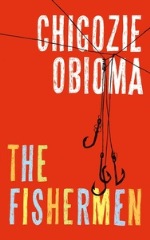 The novel The Fishermen, by Nigerian writer Chigozie Obioma, was on the shortlist for the Man Booker Prize 2015. The Fishermen is Obioma's first novel and, at the age of 28, he was the youngest of the nominees.
Chigozie Obioma was born in Nigeria and, after studying in Cyprus and staying in Turkey, now lives in the United States, where he is professor of Literature and Creative Writing at the University of Nebraska-Lincoln. Previously, Obioma has published short stories and poetry, and received Hopwood Awards in Fiction and Poetry.
The Fishermen is set in a village in 1990s Nigeria, where four brothers, aged nine to fifteen, skip school in absence of their father, and go fishing at a forbidden river. There they meet Abulu, a local 'madman', who makes a terrible prediction that will follow them all of their lives.
In an online interview Obioma writes about the storyline: "On a larger thematic note, I wanted the novel to comment on the socio-political situation of Nigeria. Nigeria, to me, is an insane idea created by a madman and bought by sane people: the prophesying madman here, being the British, and the recipients of the vision being the people of Nigeria (three major tribes with nothing in common, cohabiting to form a "nation")."
The winner of the Man Booker Prize 2015 is A Brief History of Seven Killings by Marlon James (Jamaica). The other nominated novels were Satin Island by Tom McCarthy (UK), The Year of the Runaways by Sunjeev Sahota (UK), A Spool of Blue Thread by Anne Tyler (US) and A Little Life by Hanya Yanagihara (US).
Related links:
Germa Seuren
October 2015

Posted on 28 September 2015, last modified on 27 May 2020