The maestro, the magistrate and the mathematician, by Tendai Huchu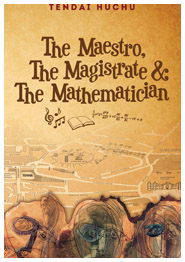 The plot of this new novel (2014) by Tendai Huchu (born 1982 in Bindura, Zimbabwe) revolves around the lives of three Zimbabwean expatriates: three different men who struggle with thoughts of belonging, loss, identity and love. Set in Scotland, where Tendai Huchu also happens to live at present, the book zooms into the life of the expatriate but also provides some valuable insight into the political and economic landscape, the shaky opposition and the corruption which are set into the fabric of Zimbabwean life.
In a free-flowing narrative style, the author illuminates the juxtaposition of the more intimate, but chaotic African culture with the more detached, structure-loving way of the West through his lively portrayal of the characters.
A novel which deals with fundamental questions of this age such as the nature of 'democracy', The Maestro, The Magistrate & The Mathematician comes at a time when writers from the continent are protesting about the 'African Literature' tag.
This second novel has just been released in Zimbabwe. Tendai Huchu's first novel, The Hairdresser of Harare, a comedy of manners set in homophobic Mugabe's Zimbabwe, was released in 2010 to critical acclaim and has been translated into German, French and Italian. His short fiction and non fiction have appeared in The Manchester Review, Ellery Queen's Mystery Magazine, Gutter, AfroSF, Wasafiri, Warscapes, The Africa Report, The Zimbabwean, Kwani? and numerous other publications. In 2013 he received a Hawthornden Fellowship and a Sacatar Fellowship. He was shortlisted for the 2014 Caine Prize.
Angie Robson, 30 March 2015
Posted on 30 March 2015, last modified on 18 December 2017