Embroidery from Africa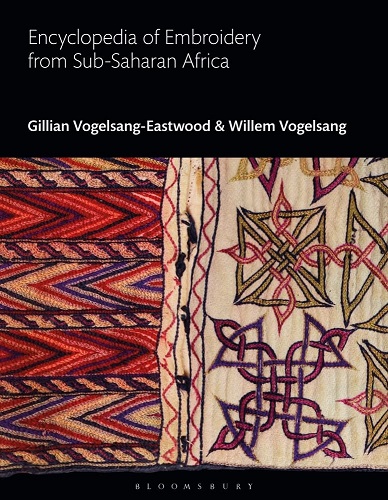 Africa is better known for its printed, dyed and geometrically patterned cloths than for its embroidered textiles, but the Encyclopedia of Embroidery from Sub-Saharan Africa, by Leiden Textile Research Centre (TRC) director Gillian Vogelsang-Eastwood and her husband Willem Vogelsang, makes it clear that Africa has a rich culture of embroidery as well.
African embroidery belt
From Mali, Ghana and Nigeria in the West, to Ethiopia and Eritrea in the North-East, embroidery is widely practiced. Moreover, old and new embroidery practices also exist in countries outside what some call the 'African embroidery belt', such as in Zambia and South Africa. Embroidery from North Africa, Sudan and Zanzibar was covered in Vogelsang-Eastwood's Encyclopedia of Embroidery from the Arab World.
Materials and tools
The Encyclopedia of Embroidery from Sub-Saharan Africa is a beautifully illustrated reference work for (the history of) hand embroideries, focusing on the objects themselves and their production. The book is, amongst other things, concerned with materials, tools, techniques and stitches. Embroidery is typically worked on woven textiles, but materials such as leather and tree bark cloth function as ground as well, as do calabashes. The image of a 19th century gold-embroidered calabash bowl of the Asante from Ghana illustrates this.
Materials used for needles changed over time from (presumably) fish bones and thorns, to bronze, silver and iron. Commercially produced iron and steel needles became available through international trade, allowing, over time, for finer and more complex stitches to be made. The appendix of the book lists no less than 84 different stitches, each with a clear drawing of how it is produced. For several objects, the stitches used are indicated and/or the design is outlined in a chart.
Men and women
In Africa, traditional embroidery was and is very much the work of men. Nevertheless, in the 1970s, women in the northern Nigerian town of Zaria watched their husbands embroider the traditional Hausa robe for men, the babban riga, and decided to try and do this themselves. In 1994, the Queen Amina Embroidery group was founded, which still exists today. Embroidery proved a good way for women from Zaria to earn some income, amongst other reasons, because it could be done at home. In other countries, women's embroidery groups came into being as well.
Decorated objects and objects for decoration
Many of the items depicted in the encyclopedia are from the collections of the British Museum and the Leiden Museum of Ethnology, but there are also several from the collection of the TRC in Leiden. The latter include the mid-20th century embroidered trousers from the Ethiopian highlands of which a fragment is depicted on the cover of the book, as well as 21th century Rwandan and South African embroideries, which, unlike most embroidery from Africa, are sometimes 'just' meant for being beautiful on a wall. A narrative panel depicting the funeral of Nelson Mandela formed by the South African Mapula Embroideries, formed part of a mini-exposition in the TRC Gallery in the spring of 2022.
Heleen Smits
8 June 2023 – 22 October 2023 in Wereldmuseum Rotterdam: Exposition Geen woorden maar draden (No words but threads), about embroidery in the world.
Posted on 8 June 2023, last modified on 4 July 2023