Deon Meyer
South African Deon Meyer is the author of De Vrouw in de Blauwe Mantel (The Lady in the Blue Coat), the gift book for this year's Crime & Thriller Book Weeks.
The Crime & Thriller Book Weeks, organized by CPNB, the promotional organization for book trade in the Netherlands, will run from Friday 9 to Sunday 25 June 2017. During this period, bookshops will give away a free copy of Meyer's book to every customer who spends at least €12.50 on Dutch language books.
Deon Meyer (b.1958) lives and works near Cape Town. After studying at the Potchefstroom University, he began working as a reporter at Die Volksblad, a daily newspaper in Bloemfontein. He became a full-time crime author in 2009. Meyer writes in Afrikaans. His books have been translated in 27 languages and are sold in 23 countries. They have been awarded many prizes around the world. Meyer's second thriller in the series about Inspector Bennie Griessel, Thirteen Hours, was named Thriller of the Year by the Vrij Nederland Detective & Thrillergids (a guide to mystery books and thrillers), marking his ultimate breakthrough in the Netherlands and Flanders.
Deon Meyer's thrillers are part of the ASCL Library's collection of African crime fiction. They are available in the library in Afrikaans and English. The books will be on display during the Crime & Thriller Book Weeks. Come along and discover South African crime writing at its best.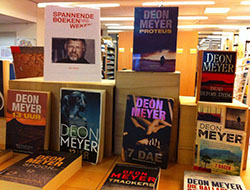 See also:
Posted on 6 June 2017, last modified on 18 December 2017