De koerier van Maputo (The Courier of Maputo)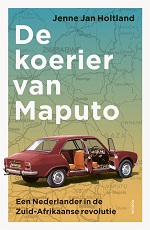 This month's ASCL Library Highlight focuses on 'De koerier van Maputo' (The Courier of Maputo) by Jenne Jan Holtland. In this recently acquired Dutch-language non-fiction work by journalist Jenne Jan Holtland, the writer explores the surreal yet true story of Klaas de Jonge, a Dutch citizen who became involved in the armed struggle against Apartheid in South Africa in the 1980s, and who ended up spending over two years in diplomatic asylum in the Dutch embassy in Pretoria.
Young journalist Holtland came into contact with Klaas de Jonge by chance, after spotting him in the audience of a lecture in Amsterdam, and became fascinated by his story. The book is based on extensive research, involving many hours spent with Klaas, numerous interviews, and in archives in the Netherlands as well as in Southern Africa.
The book sheds light on the involvement of Klaas, and his spouse at the time, Belgian-Dutch Hélène Passtoors, in the smuggling of money, political pamphlets, and later weapons and explosives for the ANC, and its armed branch Umkhonto we Sizwe. The couple and their children lived in Maputo, Mozambique, then an important place of refuge for ANC activists, and for the recruitment of helpers in the armed struggle.
While reconstructing the story of Klaas' involvement, arrest, and refuge in the Dutch embassy, Holtland attempts to tackle some fundamental questions. Was violence an acceptable means in the struggle against Apartheid, and if yes, against whom? How did foreigners like De Jonge and Passtoors become so deeply motivated to fight for liberty in a country that was not their own? How do they look back on their activities and the consequences, in particular the deaths of civilians? By showing different standpoints on these issues, Holtland makes clear there are no ready-made answers. This makes the book an interesting and thought-provoking read.
For non-Dutch readers, who will have to wait for a possible translation to read this work, and for Dutch readers who would like to learn more, we have compiled a list of sources on the ANC's armed struggle, and activists mentioned in the book, below.
Germa Seuren
More sources
Klaas de Jonge
Klaas de Jonge, 'de koerier van Maputo'
Radio interview with Jenne Jan Holtland and Klaas de Jonge. - VPRO OVT, 17-10-2021. (in Dutch)
África do Sul : Apartheid e resistência / Klaas de Jonge
São Paulo : Cortez [etc.], 1991.
Klaas de Jonge: interview transcript. / Julie Frederikse, 1987.
South African History Online.
Two years in Pretoria : a journal / Klaas de Jonge
Pretoria : UNISA Press, 1987. (EPUB, Free access)
Dagboek uit Pretoria / Klaas de Jonge
Amsterdam : Van Gennep, 1987.
Hélène Passtoors
Hélène Passtoors : The life and times of an MK soldier
Interview by Melt Muburgh, sound clips by Johan Allers, videos edited by Gys Loubser. Footage and images provided by Hélène Passtoors, or are available in the public domain. Additional images: Rapport and Nationaal Argief (Croes, Rob C. / Anefo). - LitNet / Voertaal, 2021.
Watch part of the interview below.
The Passtoors trial : a report to the ICJ and the NJCM on a treason trial in South Africa, April-May 1986 / Willem C. van Manen
[Amsterdam : s.n.], 1986.
ANC's armed struggle / Umkhonto we Sizwe
The terrorist album : Apartheid's insurgents, collaborators, and the security police / Jacob Dlamini
Cambridge, Massachusetts : Harvard University Press, 2020.
The other side of freedom : stories of hope and loss in the South African liberation struggle 1950-1994 / Gregory F. author Houston, et al.
Cape Town HSRC Press, 2017.
Promises & lies : Fault lines in the ANC / Siona O'Connell
[Cape Town : Centre for Curating the Archive, University of Cape Town], 2016.
Umkhonto we Sizwe : the ANC's armed struggle / Thula Simpson
Cape Town : Penguin Books, 2016.
A look at the history of Umkhonto we Sizwe / eNCA, YouTube Channel, 2013.
Watch below
External Mission : the ANC in exile, 1960-1990 / Stephen Ellis
London : Hurst & Company, 2012.
A just defiance : the bombmakers, the insurgents and a legendary treason trial / Peter Harris
London : Portobello Books, 2011.
The ANC and the turn to armed struggle, 1950-1970 / Ben Turok
Auckland Park : Jacana Media, 2010.
Men of dynamite : pen portraits of MK pioneers / Rashid Seedat and Razia Saleh
Johannesburg : Ahmed Kathrada Foundation, 2009.
https://www.sahistory.org.za/sites/default/files/Men-of-Dynamite.pdf
Umkhonto we Sizwe : fighting for a divided people / Thula Bopela
Alberton : Galago Books, 2005.
Against the tide : whites in the struggle against apartheid / Joshua N. Lazerson
Boulder [etc.] : Westview Press Bellville : Mayibuye Books, 1994.
Comrades against apartheid : the ANC & the South African Communist Party in exile / Stephen Ellis
London : James Currey Bloomington, Ind. [etc.] : Indiana University Press, 1992.
MK : the ANC's armed struggle / Howard Barrell
London : Penguin Books, 1990.
Individual activists mentioned in the book
Time is not the measure : a memoir / Vusi Mavimbela
Houghton, Johannesburg : Real African Publishers, 2018.
The backroom boy : Andrew Mlangeni's story / Mandla Mathebula
Johannesburg, [South Africa] : Wits University Press : June and Andrew Mlangeni Foundation, 2017.
Fordsburg fighter : the journey of an MK volunteer / Amin Cajee
[S.l.] : Face2Face, 2016.
Chris Hani / Hugh Macmillan
Auckland Park : Jacana, 2014.
The making of an MK cadre / Wonga Welile Bottoman
Pretoria : LiNc Publishers, 2010.
Hani : a life too short : a biography / Janet Smith
Johannesburg [etc.] : Jonathan Ball, 2009.
Oliver Tambo remembered / Pallo Jordan
Johannesburg : Pan Macmillan, 2007.
Writing left : the radical journalism of Ruth First / Donald Pinnock
Pretoria : University of South Africa, 2007.
Timol : a quest for justice / Imtiaz Cajee
Johannesburg : STE Publishers, 2005.
Armed and dangerous : from undercover struggle to freedom / Ronald Kasrils
Johannesburg [etc.] : Jonathan Ball Publishers, 2004.
Oliver Tambo : beyond the Engeli mountains / Luli Callinicos
Cape Town [etc.] : David Philip [etc.], 2004.
Oliver Tambo : his life and legacy / Luli Callinicos
Marshalltown : ANC, 2002.
Reflections in prison : voices from the South African liberation struggle / Mac Maharaj
Amherst, MA [etc.] : University of Massachusetts Press, 2002.
Dulcie : een vrouw die haar mond moest houden / Evelien Groenink
Amsterdam [etc.] : Atlas, 2001.
Cutting through the mountain : interviews with South African Jewish activists / Immanuel Suttner
London : Viking, 1997.
Every secret thing : my family, my country / Gillian Slovo
London : Abacus (Little, Brown & Co.), 1997.
Revolutionary times, revolutionary lives : personal accounts of the liberation struggle / Bob Myers
London : Index Books, 1997.
Slovo : the unfinished autobiography / Joe Slovo
Melbourne [etc.] : Ocean Press, 1997.
Armed and dangerous : my undercover struggle against Apartheid / Ronald Kasrils
Oxford [etc.] : Heinemann, 1993.
Thami Mali remembers Chris Hani : the sun that set before dawn / Thami Mali
Johannesburg : Sached Books, 1993. - Chris Hani
No life of my own : an autobiography / Frank Chikane
Maryknoll, N.Y. : Orbis, 1989.
Escape from Pretoria / Tim Jenkin
London : Kliptown Books, 1987.
Other items mentioned in the book
Askari : a story of collaboration and betrayal in the anti-apartheid struggle / Jacob Dlamini
Auckland Park : Jacana Media, 2014.
Africa blood & guts : (aka Africa addio) / Gualtiero Jacopetti and Franco Prosperi
[West Hollywood, CAL] : Blue Underground, 2000.
The Wynand du Toit story / Allan Soule
Johannesburg : Hans Strydom Publishers, 1987.
Posted on 24 January 2022, last modified on 16 February 2022