Collection republished historical newspapers from Somalia (1961-1987)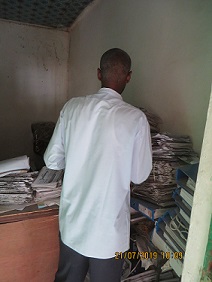 Newspapers from Africa are among the hardest items to collect systematically. The abysmal state of publishers' archives, series which are incomplete, a lack of reliable data about the existence of titles, and small print runs are just some of the problems libraries are facing in their efforts to offer access to this important source. Even properly catalogued, African newspapers collections in libraries remain a not fully utilised material in academic research, due to the difficulties in the discovery, retrieval and borrowing.
The Cooperative Africana Materials Project (CAMP), a project set up by the Centre for Research Libraries in the US, is an excellent starting point for research questions, but the duplicating and the shipping of materials provide their own challenges and add to the cost for European libraries and their patrons. The Readex African Newspaper database contains more than sixty nineteenth- and twentieth-century African newspapers published in the period 1850-1923. Featuring titles from Ghana, Kenya, Lesotho, Malawi, Mozambique, Namibia, Nigeria, South Africa, Uganda and Zimbabwe, it is a valuable collection, but has its historical limits due to copyright restrictions.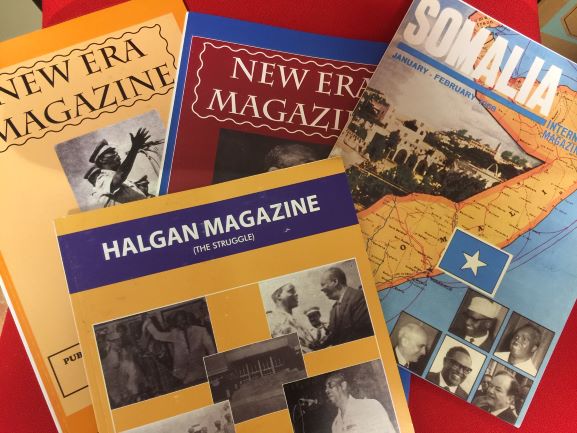 On acquisition trips to Africa, the African Studies Centre Leiden (ASCL) regularly collects newspaper samples, in order to notify our researchers to the existence of newspapers titles (see Somali newspapers). Subsequent questions about locating, borrowing or duplicating complete sets (preferably in digital format to be consulted at home) are often very hard to answer. Recently we have faced additional problems related to COVID-19 causing consultation and digitisation services to be suspended.
SCANSOM
For these reasons, the ASCL is happy to supply access to yet another small collection of (print) newspapers from Somalia. The Swedish publisher SCANSOM, long active in the field of Somali publications*, has digitised and republished fourteen volumes of mainly English, and some Somali language newspapers in 2019-2020.** Scansom CEO, poet and author Mohammed sh. Hassan https://www.worldcat.org/oclc/185318363 , together with Abdulahi A. Ahmed (Somaliyow), and with the institutional help of Indiana University, the Library of Congress, Michigan State University and the British Library carried out this project which "consumed huge amount of work, travel, research and dedication to compile."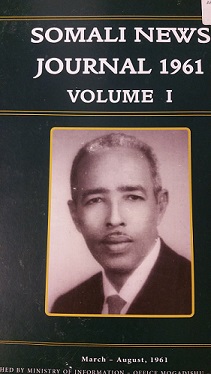 The collection contains: The Somali News Journal, the Somalia National Review Magazine, New Era Magazine, Somalia International Magazine and Halgan (The Struggle). Content shows a focus on politics, economy and foreign relations with other (socialist) countries, less so on cultural and social events and hardly at all on topics such as religion and sports.
Period
The newspapers were originally published in the period 1961 – 1987, an important period of time just after Somali independence. It also contains news from French Somaliland (Djibouti) which only became independent in 1977, one of the last countries on the continent. The newspapers cover most of the Siyad Barre regime, (he is cited as comrade Siyaad (Jaalle Siyaad) in the newspapers), who was president from 1969-1991. Every newspaper is published by Somali government actors such as the Ministry of Information and the Somali Revolutionary Socialist Party (SRSP), both based in Mogadishu.
Value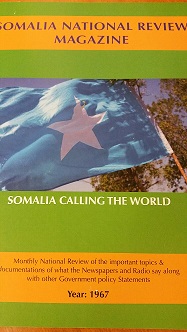 The importance of these materials for research purposes is beyond any doubt. Collecting and supplying these materials is a fine example of what diaspora communities can achieve in preserving their heritage and opening it up for further research. Nonetheless, probably due the hefty price, the accessibility of these newspapers is uncertain in both volatile Somali-speaking regions as well as in politically more stable countries, such as Somaliland and Djibouti.
Despite the good print quality and very few OCR mistakes, the relation between the original and the reproduction is mostly lost. Although the content has been faithfully reproduced, a facsimile edition gives the reader a better sense of the original paper. Also information about the provenance of the original publication, information regarding print runs, the reading public, areas of dissemination and their place within the wider field of publications from the Somali speaking region is lacking. It is unfortunate that potential users are not referred to complete sets of these interesting and culturally rich newspapers.
Gerard van de Bruinhorst
References
*Cf. Eila Rantonen, African voices in Finland and Sweden. In: Transcultural modernities: narrating Africa in Europe, ed. Elisabeth Beckers, Sisy Helff & Daniela Merolla, Amsterdam: Rodopi, 2009.
** There is reference to bilingual and/or different editions in other languages (Somali and Italian), but surprisingly not Arabic, a much more common lingua franca in the area than English.
Posted on 28 January 2021, last modified on 21 April 2021