Chronique d'une révolte, photographies d'une saison de protestation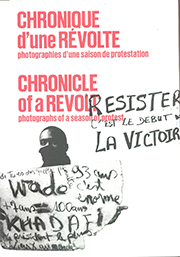 It is three years ago this summer that a thirteen-month period of protest and civic action started in Senegal. For some time, there had already been widespread dissatisfaction with the way the country was being governed, the frequent power cuts and the constant dysfunctionality at all levels of society. This was strongly vocalized by the Y'en a marre (Enough is Enough) movement.
On June 23 2011, as the National Assembly was preparing to vote on a constitutional amendment that was seen as an 'electoral ticket' for President Abdoulaye Wade, a massive protest spontaneously broke out in Soweto Square in Dakar and a series of demonstrations followed until the elections in March 2012 when
Macky Sall was elected president.
Today Senegal is growing impatient with the slow pace of change. In the local elections last June, the candidates of the Alliance pour la République (APR, the presidential party) were beaten in Dakar and the Y'en a marre movement is now being treated as a group that is spoiling the party. But the group is still active and frequently addresses its messages to the government.
This book is a catalogue that was compiled by the Raw Material Company, a cultural centre based in Dakar, to accompany an exhibition of photographs by twenty mostly Senegalese (press) photographers to celebrate the commitment of the photographers who played a leading role in providing information on a historic moment in real time. The bilingual (French and English) essays in the catalogue analyze this period of protest against a regime that was rejected by a large part of Senegalese society.
This publication has been acquired during a recent acquisition trip to Senegal. Check our catalogue for this rare book.
Chronique d'une révolte; photographies d'une saison de protestation = Chronicle of a revolt; Photographs of a season of protest. Sous la dir. de Koyo Kouoh ; photographes de Aliou Mbaye ... [et al.] ; auteurs Alioune Tine ... [et al.] ; Dakar : Raw Material Company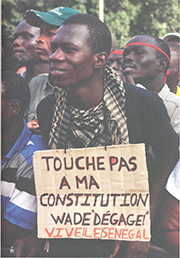 Posted on 2 September 2014, last modified on 18 December 2017