Chinua Achebe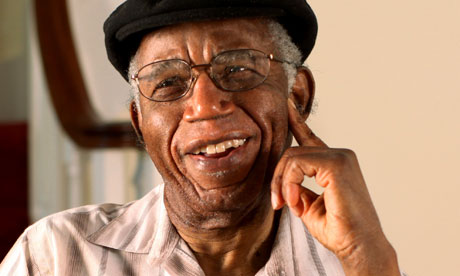 Chinua Achebe (1930-2013) Photograph: Mike Cohea/AP
Chinua Achebe died on 21 March 2013 at the age of 82. Achebe, Nigerian novelist, poet, essayist and scholar, is often referred to as the father of the African novel. His debut novel, Things fall apart, published in 1958, was one of the watershed works of what soon became an historic burgeoning of Nigerian literature. Since that time Achebe has established himself as a world-renowned man of letters and an influential critic of - and advocate for - modern Nigeria and the great pride of the Igbo people of eastern Nigeria, to which he belonged.
Albert Chinualumogu Achebe was born on 16 November 1930 in Ogidi, Igboland, eastern Nigeria, 30 years before the country declared its independence from British colonial rule. As a college student in 1948, Achebe would reject his English first name, embracing his indigenous Igbo name, Chinualumogu -- Chinua for short -- which means 'God fought for me'. The fifth child of Isaiah Okafo and Janet N. Iloegbunam Achebe, he received his primary education at the Church Mission Society School where his father, who had been among the village's first converts to Christianity, was a teacher. Although Achebe was raised to embrace Western religion and culture, from an early age he demonstrated a strong curiosity about and identification with traditional Igbo culture.
In G.D. Killam's The novels of Chinua Achebe (1969), one of the best early studies of Achebe's work, the critic summarizes Achebe's literary concerns, stating that they reside 'first, with the legacy of colonialism at both the individual and societal level; secondly, with the fact of English as a language of national and international exchange; thirdly, with the obligations and responsibilities of the writer both to the society in which he lives and to his art'.
(Source: African Writers Series, Proquest 2005-2013, to be consulted in the library)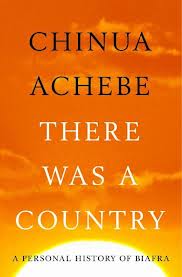 Achebe's final work is last year's mix of memoir and history There was a country, a personal history of Biafra, an account of the Nigerian civil war of 1967 to 1970.
The ASC Library holds all publications by Chinua Achebe, and a lot of writings on his work; check the ASC OPAC on Chinua Achebe.
Elvire Eijkman (March 2013)
Posted on 25 March 2013, last modified on 19 December 2017