Homegoing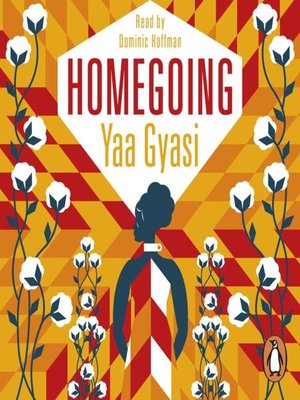 Homegoing is the debut historical fiction novel by Yaa Gyasi (Ghana, 1989) and is currently a favourite for those interested in the slave trade and its consequences. The tale begins in the late 18th century in an Asante village, part of the Gold Coast which eventually became Ghana. Each chapter in the novel follows a different descendant of an Asante woman named Maame, starting with her two daughters, separated by circumstance: Effia marries James Collins, the British governor in charge of Cape Coast Castle, while her half-sister Esi is held captive in the dungeons below. Subsequent chapters traces the legacy of sorrow that slavery has left on eight generations of one family and visually describes the savage realities of slavery and the emotional damage that is handed down, over the centuries.
The writer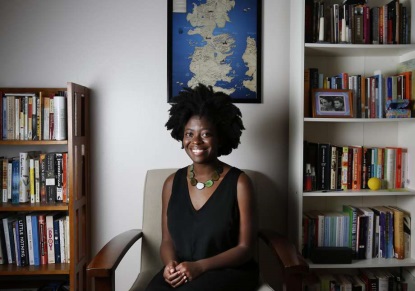 Although Yaa Gyasi was born in Ghana, she moved to the United States as an infant. Born in Mampong, Ghana, she is the daughter of Kwaku Gyasi, a professor of French at the University of Alabama in Huntsville, and her mother Sophia, who is a nurse. Her family moved to the United States in 1991 when her father was completing his PhD at Ohio State University. The family also lived in Illinois and Tennessee, and from the age of 10, the novelist was reared in Huntsville, Alabama. She earned a Bachelor of Arts in English at Stanford, and a Master of Fine Arts from the Iowa Writers' Workshop, a creative writing program at the University of Iowa.
In 2009 she made her first trip back to the country of her birth. On a friend's prompting, they visited the Cape Coast Castle, where she found her inspiration for the novel in the contrast between the luxurious upper levels (for colonists and their local families) and the misery of the dungeons below, where the slaves were kept. The author says she starts with the family tree, and each chapter, which follows one descendant, is tied to a significant historical event.
Reviews
Critics have reviewed the novel to almost universal acclaim, although there have been some jarring notes; some reviewers saying that she has bitten off more than she can chew and she received a staggering US$1,000,000 as an advance for the book. But in general, the novel is described as 'a panoramic portrait of the slave trade and its reverberations' and 'makes the reader experience the horrors of slavery on an intimate, personal level.' The novel was subsequently selected in 2016 for the National Book Foundation's "5 under 35" award, the National Book Critics Circle's John Leonard Award for best first book, and was longlisted for the Dylan Thomas Prize in 2017. It received the Hemingway Foundation/PEN Award for 2017.
To find out more on slave trade in Africa, Please check here:
http://catalogue.leidenuniv.nl/primo_library/libweb/action/dlSearch.do?institution=UBL&query=any,contains,294937625&vid=UBL_V1&search_scope=lib_asc

Angela Robson
Posted on 29 May 2017, last modified on 18 December 2017